Guest speakers deliver in commencement speeches
With their diplomas in hand, Suffolk University's class of 2015 walked across the stage of the Blue Hills Bank Pavilion on the Boston waterfront, celebrating their graduation in front of peers, friends, family, professors, and other university staff on Sunday, May 17.
The day before, Suffolk Law School held its commencement at the John B. Hynes Convention Center, hosting Massachusetts Supreme Court Associate Justice Robert J. Cordy and President-elect of the American Bar Association Paulette Brown as commencement speakers. Both received honorary doctorates of law.
At separate ceremonies for the College of Arts and Sciences and the Sawyer Business School, commencement speakers told graduates they would face challenges as they moved beyond their colleges and offered advice on navigating their personal and professional lives.
Brian McGrory, editor of the Boston Globe, warned business school graduates of disruptive innovation, using the shaken-up newspaper industry as an example. Since the rise of the Internet, newspapers' advertising revenue has decreased, and online advertising does not bring in as much revenue, he said, adding that the rapid shift from print to digital publication caught the news business off guard.
"Don't stand still," he cautioned graduates. "If you're satisfied, if you don't think you're in any trouble in the business endeavors you enter in the coming years, you're dead wrong. There is someone out there gunning for you … with an innovation you haven't seen yet."
But even in a difficult financial reality, McGrory said, quality matters.
"We fight tooth and nail every single day to put out a great product," he said. He encouraged graduates to have good character by not cutting corners and by treating their colleagues and employees well.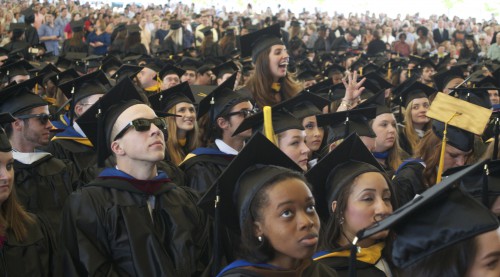 Two class of 2015 business school graduates Seynabou Anita Sar and John Mensch addressed their peers, exciting them with speeches that, though very different from one another, visibly moved and inspired them.
Sar, originally from Senegal, recalled the difficulty of leaving her family for the first time to attend Suffolk's Boston campus after the university's campus in Dakar closed. She said she dreamed of the Dakar campus to reopen and offer opportunities for Senegalese students like her.
Mensch, who served in the United States Marine Corps prior to attending Suffolk, earned a standing ovation from the crowd as he dismissed stereotypes about millennials, insisting that his generation did not want a trophy for their every accomplishment. Rather, he said, they aspire to solve bigger issues like income inequality and environmental pollution.
At the ceremony for the College of Arts and Sciences, Governor Charlie Baker and Farm Aid Executive Director Carolyn Mugar both encouraged graduates to pursue service to others.
Baker, who noted that many Suffolk graduates can be found working in the State House, called the university "one of the true crown jewels in the constellation of higher education institutions" in Boston.
Reflecting on his careers in government and business, Baker advised graduates to tackle the challenges they will face after college by staying positive and being constructive, to focus on figuring out what will work instead of worrying over what doesn't.
Mugar, whose organization advocates for family farmers, said graduates and their generation would be called upon to fight injustices such as poverty and mass incarceration.
"Along with the opportunity you now have comes the obligation to find your own personal way to address the opportunity gaps in our society," she said.
Her father, Stephen Mugar, who came to the U.S. from Armenia in 1906 and later founded the Star Market supermarket chain, felt that immigrants have a debt to repay to America, she said. Her father received an honorary degree from Suffolk in 1955 and made a donation to Suffolk Law School as his way of giving back, Mugar said.
The optimistic spirit of the ceremonies provided by every commencement speaker was a fitting send-off from Suffolk as families cheered for their graduates' achievements and celebrated their forthcoming future endeavors.
Leave a Comment
About the Contributor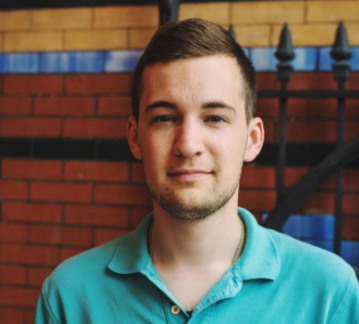 Sam Humphrey, Newsroom Manager
From starting as a staff writer to helping edit and manage the entire paper, Sam has seen every side of the Journal there is. He covered protests, changes in the school's administration, and local political events on Suffolk's campus and across the city. He graduated from the Sawyer Business School in May 2017 but his favorite memories of Suffolk are from his four years on the paper.