Professional kinkist Sinclair Sexsmith hosts discussion on campus
As a part of Sexual Assault Awareness Month, writer and performer Sinclair Sexmith hosted a discussion on campus that focused on BDSM, which stands for bondage and domination, dominant and submissive, and sadism and masochism.
The talk started off with the audience trying to define the difference between kink and BDSM. In short, kink is the umbrella term that BDSM goes under. Fetishes can go under the kink umbrella as well.
Sexmith defined a fetish as something a person needs to become aroused.
"It's when you really, really like it in an uncomfortable way. For example, you wouldn't go into a shoe store because you would start getting off and maybe start drooling," said Sexsmith.
There were a large range of topics discussed pertaining to kink. One game that was played allowed the audience to discuss and learn more about what they knew about BDSM. First, Sexsmith made a list with the audience of different things people can do in bed pertaining to BDSM and kink. The list included, but was not limited to: water/urine play, temperature play, and role play. This was by no means a completed list, but it was a "great list," said Sexsmith.
The talk was insightful and Sexsmith was incredibly open with the audience about any questions that anyone had, and also with their own sexuality as well.  Every time there was a new topic to discuss Sexsmith was not only able to give information, but also talk about their own opinions or personal story.
In efforts to make the audience more comfortable, Sinclair had everyone close their eyes and raise their hands to which of the fetishes that appealed to them most.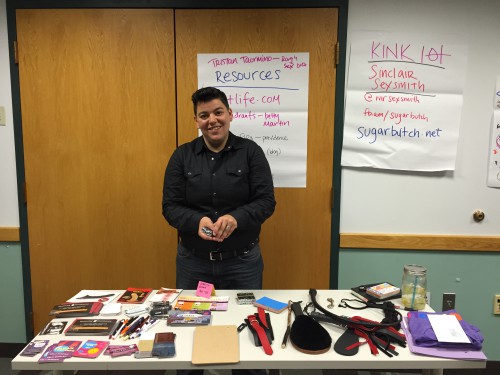 Sinclair took tally of the topics that got the most votes. After, it was determined which four subtopics were the most interesting to the audience, everyone dispersed into separate groups to talk about the topic of their choice. The three things that each group had to discuss about their topic was how their topic can be defined, what is fun about it, and what are the risks that come with it.
One group talked about impact play. The group defined it as "using your body or a foreign object to cause impact on somebody's body in order to excite arousal." It can be fun because "it can allow you and your partner to make each other's feelings more palpable to one another which allows you to become closer", said the group.
Sinclair, added to that definition by informing the audience that it can also be cathartic, as well. Lastly, impact play is dangerous due to the fact that, "you can hit the wrong body part by mistake and hurt somebody," explained the group.
Sexsmith was incredibly responsible with their discussion. Before they began, Sexsmith was sure to give a disclaimer to the audience. "This topic can be very uncomfortable and if you need to take care of yourself then please do so. If you need to leave the room and take a break that's okay. I won't get offended," said Sexsmith.
They made sure that the audience knew that there was full consent happening by, "talking about it a lot and what you want to do beforehand," said Sexsmith. They also expressed that sometimes mistakes will be made and somebody can accidentally get hurt. BDSM can be incredibly dangerous at times, and there are times when someone accidentally gets hurt.
"The question is not 'how should I not,' but how should I deal with it when it comes. The issue isn't so much 'will I hurt somebody,' it's how you deal with that when it happens. Intent versus impact, impact is real, so focus on the impact and make it right. It's good to have a good after care plan and check in with each other after," said Sexsmith.
Everyone was engaged with Sexsmith's talk at one point or another. People who were quiet for one part were open and talkative for another. The range of topics discussed allowed people with different interest to be engaged and enjoy the discussion.
Leave a Comment
About the Contributor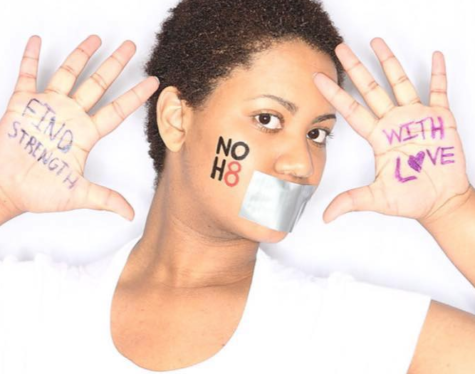 Katherine Yearwood, Staff Writer


As a senior at Suffolk University, I major in Communications with a concentration in print journalism and a minor in sociology. I have worked with The Suffolk Journal since 2015. The stories that have been the most electrifying to write are the ones where I am working with people who inspire me or the ones that allow me to call attention to social justice issues on or off of Suffolk's campus.