Softball set at No. 1 seed for conference playoffs
The regular season is finished and the Lady Rams have secured the No. 1 seed for the GNAC playoffs.
The team played their final conference games, finishing the season with a 17-5 record with four non-conference games remaining.
Coach Jaclyn Davis wants the team properly prepared heading into the playoffs, even with non-conference games left on the schedule.
"We aren't trying to give it away, we want to win," said Davis, referring to the games Wednesday against Curry College. "I think the most important thing is this weekend. Curry is usually a good team to play, they are competitive. We just want to stay fresh up until then."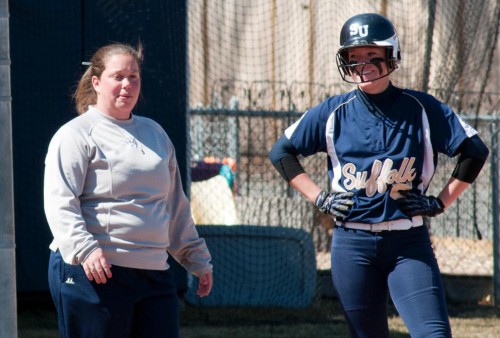 The Lady Rams will have to wait to see who their opponent is on Friday, since two teams will have a "play-in" game just hours before they take on the Lady Rams at 7 p.m.
Although the playoffs are a different environment, Davis believes the team will have to approach it like any other game this season.
"We go in with the same preparation," said Davis. "The girls have done a nice job this year playing for each other. Hitters help put runs across the board for our pitching staff and pitching has kept us in most of our games, so it has been the same approach."
The Lady Rams only recent struggle in April was against rival Emmanuel College, who are currently the No. 6 seed in the GNAC playoffs. Emmanuel swept the Lady Rams in a doubleheader last Friday.
Despite the tough competition ahead, Davis is excited for the challenge the team faces in the playoffs.
"It's been wonderful," said Davis, expressing her feelings about her three seasons coaching the Lady Rams. "It's been a really enjoyable time. It's a little bit surreal to watch, we've been through so much together in the last two and a half years, especially the upperclassmen have been through so many changes with me. To have ridden this ride, it's very emotional, and I'm really proud of them and all the work they put in. I want this championship more for them than I do for myself. They deserve it."
The Lady Rams fell short in the 2014 playoffs, but with the No. 1 seed secured, their odds are better than previous seasons.
Friday's game will be played at American Legion Park in East Boston at 7 p.m.
Leave a Comment