Zoo New England pushes for conservation
During Saturday's sunny morning, researchers gathered in the Tropical Forest classroom at the Franklin Park Zoo to discuss concerns regarding environmental issues for Zoo New England's third annual Science and Conservation Day.
Zoo New England has worked with different agencies to spread the message of conservation and is continuing this relationship. They invited local and international conservationists to share knowledge in their field of study and how they have worked with local communities to save different animal species.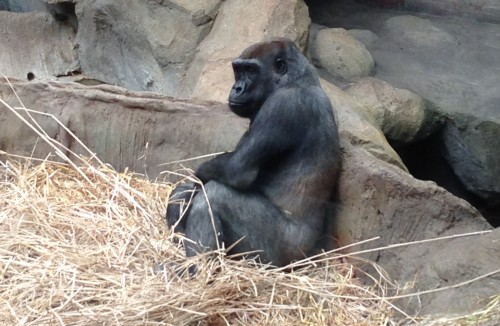 From the rare snow leopard in Eastern Asia to the Blanding's turtle found in New England, researchers shared how important these species are and what the audience can do to help.
Zoo New England has partnered with the Snow Leopard Trust and is one of the trust's first donors. Their relationship has been going on nearly almost 17 years and they still cooperate to help conserve the animal species that exist in the wild. Snow Leopard Trust Assistant Director of Conservation Jennifer Snell Rullman was invited by the zoo as the keynote speaker and wowed audience members with her personal stories.
"They've been a partner for so long, and conservation is something they are trying to do. It is so easy to come and say 'Thank you,'" said Rullman. "We want to continue this partnership with the zoo that we've had for 17 years and anytime they need me to help out, I'm more than happy to."
Some members of the audience, including zoo interns and doctors, praised Rullman not just for visiting and sharing tales of her time in Mongolia and Pakistan but for actually helping in the preservation of snow leopards.
Rullman also said that she wanted to speak at the zoo not just because she wants to maintain a good relationship with it, but to hopefully inspire people to volunteer and spread the word.
"My goal is to first maintain the partnership with the zoo, and second, inspire an individual," said Rullman.
Zoo New England President and CEO John Linehan spoke to the audience about legislation that would make the sale of ivory and rhinoceros horn illegal in Massachusetts. Linehan has a special interest in this issue, as he has conducted research on elephants and the ivory trade in the past. Linehan also said that hunting has hurt the elephant and rhinoceros population, and the buying and selling of ivory and horns is what is constantly putting these animals in peril.
"Don't sit idly by while these animals disappear in front of our eyes," said Linehan.
Linehan said one of the main reasons the bill has not yet been passed is because of the resistance coming from antiquers and musicians. Ivory is often used by musicians to make piano keys, and antiquers typically use it as décor for their homes, according to Linehan. The bill will outlaw all sale of ivory but will not affect passing ivory products down to kin. Linehan also said that Massachusetts is currently one of the states that consumes ivory the most.
In her discussion, Rullman said one of the most beneficial methods that she and her organization have used to preserve the snow leopard is to actively pursue a community-based conservation strategy. By actually getting locals' thoughts on the preservation of animals, they were able to accommodate people and show them new alternatives to enrich themselves without clashing with wildlife.
"We ask a lot of questions first … This is a community-led approach, and most of our efforts are long-term so we are never in a hurry [and] we don't rush things," said Rullman.
Rullman believes in letting nature take care of itself. Reintroduction, the process of capturing an injured or infant animal and raising it until it can be set free, can be a negative. It could send the wrong message to the community that it is acceptable to capture wild animals and use them as pets because researchers are doing the same thing.
"Don't capture the cats. It's better in the wild," said Rullman.
Leave a Comment