Netflix series 'Daredevil' hardly dares to be different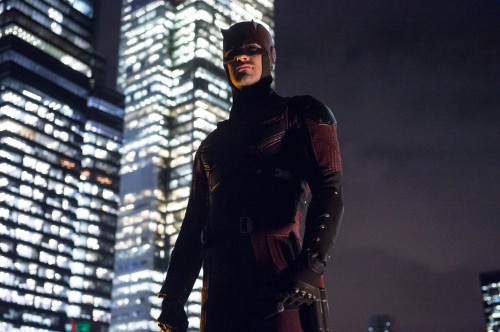 Netflix has jumped on the superhero bandwagon with the recent release of their adaptation of Marvel's Daredevil. The on-demand Internet streaming media company does not disappoint, creating a series that ties in with Marvel's cinematic universe. It remains gritty and grounded despite its superhero origins.
The show follows a legally blind defense attorney named Matt Murdock, played by Charlie Cox, as he deals with crime and gangs in the Manhattan neighborhood, Hell's Kitchen, as the masked vigilante who will be known later in the series as "Daredevil."
The show was easily able to surpass the movie of the same title from 2003, which was deemed by movie critics and fans as one of the worst movie adaptations of all time.
"There'll be plenty of ragging to go around once audiences get a dose of the dullest live-action comic strip on record," said Mike Clark of USA Today in his review of the movie.
However, it is difficult to feel originality from the show since the series follows almost every other superhero story and origin.
From the death of a parent to being a conflicted loner, Daredevil was unable to deviate from Batman. Add the fact that he's wearing all black and unwilling to kill and you basically have the Dark Knight movie franchise or the television series "Arrow," minus the cheap romantic drama.
The only unique characteristic of Murdock is his devout Catholicism. Unfortunately, the show fails to showcase his close relationship with God besides the occasional scene that follows Murdock as he goes into confession seeking advice from his priest.
Daredevil is supposed to be blind but it is so easy to forget this fact since he can see better than everyone else, except for reading text messages.
Cox did a fantastic job of playing a blind Matt Murdock when he wasn't in costume. His eyes looked blank every time he had his sunglasses and mask off and his eyes showed no emotion or expression while the rest of his face did all the acting for him.
"I think I'll be playing Daredevil well into my 90s, if they'll have me," said Cox in an interview with the New York Times. "I couldn't think of anything I'd rather be doing. Maybe speak to me again when I'm 70 and see if I feel that way."
The main villain of the season was unimpressive. Wilson Fisk was cast as a mysterious figure who was feared by everyone. Unfortunately, all we got was a tall and fat bald man who just looked incredibly uncomfortable talking to anyone.
Vincent D'Onofrio was awkward the entire time and it was difficult to distinguish between him being a criminal mastermind or just a successful man. He looked and acted more like his Private Pyle than Marlon Brando's Don Corleone.
All of the fight scenes in the show were amazing and the best one was without a doubt in the second episode, "Cut Man." The director filmed a fight scene with a single shot in a Russian gang warehouse as Murdock tries to save a kidnapped young boy.
The scene was magical and impressive to say the least, adding the fact that there was so much action and choreography on-screen, the scene was a cinematic marvel.
For all the positives that the show possesses, the pilot episode looked more like a fan film on YouTube than one that is made in a studio by professionals. The lighting was almost non-existent and the camera placements and shifts felt forced.
Despite its cliché story and dialogue, Daredevil remains unique and exciting enough to stand-alone. While it may not be "Breaking Bad" in terms of hype and twists, the action sequences in the series should be enough to keep viewers entertained.
Leave a Comment