Environmental Club denied space in Boston Common for Earth Day event
Suffolk's Environmental Club is searching for a new place to host their first annual Earth Day Fest after the city's Parks and Recreation department rejected their permit to host the event in the  Boston Common.
The Environmental Club, partnering with Boston University's Environmental Coalition, is planning to host its first annual Earth Day Fest on April 22 from noon to 5 p.m.
The location of the event, however, is still being finalized following the decision of Boston's Parks and Recreation department to cancel the club's finalized permit, according to Rebecca Jo Henry, secretary of the club.
"We were approved for the [Boston Common gazebo]. We went through the permit process and finalized everything weeks ago, however on Friday, March 27, Parks and Rec kicked us out, the reason being because of the marathon two days before," Henry said. "This makes us upset because we're trying to promote the earth and want to do it in this location."
The club does have backup locations, including a space on BU's campus.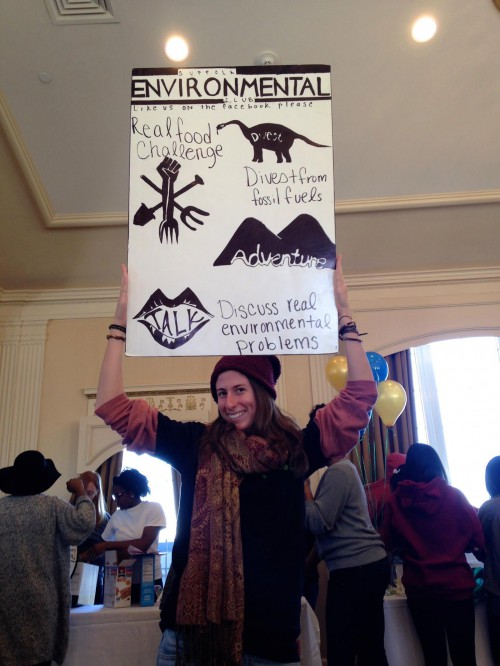 "We are hoping to get the Suffolk community as well as Boston to join together and celebrate the earth, inspire sustainable methods of living, and share responsibility for the future of our planet," said Henry.
During the Earth Day Fest, the community can expect to see a number of local vendors, such as local eateries The Juicery, Equal Exchange, Piperi, and Sweet Green. All vendors are known for promoting nutritional, flavorful food with energizing atmospheres.
The club is also working with Boston Hassle, a music blog and Boston events guide, that is a "source for all the best underground sounds flowing in and out of Boston," according to their page. Local groups such as local hip hop and indie groups such as Lewis M and Stony Love have been confirmed, with more to be added, according to Henry.
By inviting sustainable food companies, bands, and poets, to come together to support sustainability, Henry believes it will bring the Suffolk and Boston community together to promote sustainable living.
In addition to local music groups, there will also be games, demonstrations, and workshops promoting sustainable living, Henry said.
The Environmental Club has outreached to several activist groups that will also attend the fest, including ELM, Greenovate Boston, Mass Energy Consumer Alliance, Enactus, MASSPIRG, and UCS.
Not only will members of the Environmental Club be enjoying the event, but members from Suffolk's Real Food Challenge and Suffolk NORML student groups be involved.
Henry has not yet decided on how the Environmental Club will inform the Suffolk and Boston community where the fest will be held.
Leave a Comment