British reign E! in smashing new scripted reality drama
Basking in the splendors of attending the regal affairs without footing the bill for a maddening hat, E!'s new scripted drama reality series, "The Royals," put the nasty in dynasty during its première. And, it's bloody good.
Americans gawking at the British royal family is not new. The over-the-top weddings, fascinating foibles and our perception of archaic traditions and overhyped baby names are undoubtedly what makes enjoying the decadent lifestyles of the tabloid friends and foes so intriguing. Peering into a life of what could have been if we second-guessed our independence, the not-so -subtle hints of how the royals' lavish lives makes for a smoldering series.
The pulsating music, impeccably dressed cast and the acute attention to detail all work to breathe life to the nonsense that has made Kris Jenner and her band of babbling buffoons a household name. However, the reigning royals, unlike their E! predecessors,  touch on social, political and economic affairs that not only offers good entertainment but also a real sense of relatability  for viewers.
E! has made their name through their racy exploitation of any opportunity to press, publish and snatch scandal of our own Hollywood's reigning élite. Enticing viewers to check out an even more usurping world and in true melodramatic form, it is only fitting that the network's first tongue-in-cheek fictional Royal family make their series début on March 15 following the tenth season première of TV juggernaut, "Keeping Up With The Kardashians."
Mark Schwahn, the creator of the series of teen drama, "One Tree Hill," commented to E! he hopes to offer viewers a fresh perspective on royalty in his new work.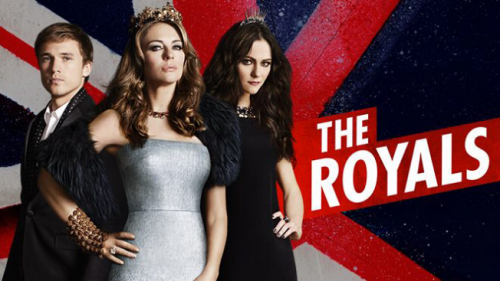 "I just thought it would be really interesting to take a look behind the curtain," Schwahn said in an interview with BBC. "Who are these people? What do they want? What will they do to get it? I thought it was really fascinating and a great idea for the foundation of a story."
Glittered with all the trappings of a well-rounded series, the reigning family, Queen Helena (Elizabeth Hurley), King Simon (Vincent Regan), Prince Liam (William Moseley), Princess Eleanor (Alexandra Park), Ophelia Price (Merritt Patterson), and Prince Cyrus Henstridge (Jake Maskall), struggle with both common as well as atypical family drama in the public eye and behind closed doors of the unnamed but obvious, Buckingham Palace.
"This is our fantasy of royal life, [that] we all hope royal life to be. So it's kind of like, through the keyhole kind of feel. It's no imitation of the royal family at all," said Moseley to BBC, best known for his role as Peter in the Narnia Franchise.
"I think they think we're trying to depict the royal family but we're really not," Moseley said to BBC.
Hurley, 49, as Queen Helena, plays the sharply dressed matriarch and mother of three whose only mission is to preserve the monarchy, herd her family together after her eldest son's tragic death, groom her jaded daughter and doe-eyed son as royal role models and ultimately ensure that viewers are given an extreme and utterly sexy peep show of British royal life.
"Americans, traditionally, are quite enamored with our real royal family, they think they're the bees knees. I do too as it happens … So I knew there'd be a lot of interest in the show and in fact they have responded very well to our scurrilous, fake royal family," she said to BBC.
The show and cast have recently been under scrutiny that their characters are based on the real royal family. Again and again, however, the show has said that while their storylines are composed of rather risky subplots that may happen in real life, it is not an active portrayal or an attempt at snarling Buckingham Palace's actual rulers.
"Elizabeth has been very brave in approaching the more villainous aspects of the character … I was working with Elizabeth on wardrobe and she asked, 'Why not add in bits of fur? I think the queen should wear bits of cruelty once in a while," said Schwahn to E! News.
According to E! News, the series has just been signed on for a second season and it would be incredibly surprising if their foray on television fell flat before the series' next coronation.
Leave a Comment