Roxane Gay offers bold advice to aspiring writers
By Jennifer Usovicz
The Little Building at Emerson College was packed to capacity March 19, with attendees spilling out onto the aisles, waiting for a question and answer session and reading with Roxane Gay, author of New York Times best seller "Bad Feminist."
Gay sat at the front of the venue and opened with a witty anecdote about a new leather couch she recently purchased. She had broken her ankle and was wheelchair bound at the time of the purchase and said an unkind comment from a sales person warranted the purchase of a couch as retribution. The salesperson had asked her if she enjoyed window shopping, so Gay, not one to be misjudged, told the audience her rebuttal to the salesperson was, "I'm buying a damn couch."
Gay finished her Ph.D in rhetoric and technical communication in 2010 from Michigan Technological University and is currently teaching at Purdue University in Lafayette, Ohio.
Gay is an African-American feminist writer and the child of immigrant parents. In her first essay, "Bad Feminist," she discusses the adversity she faced and the ways in which peers tried to break her.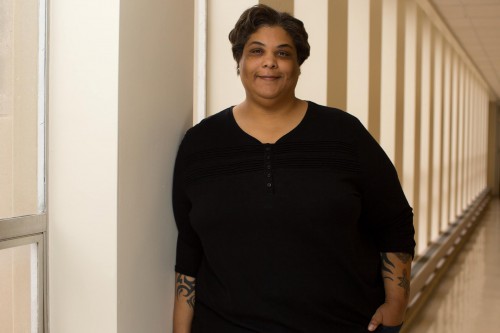 She once overheard a former colleague in her graduate seminar remark, "She's the affirmative action student," belittling Gay's success and undermining her right to be there, she said.
At the seminar she was asked, "How do you write about sexual violence?" Gay responded that she deals with it in a way that's not gratuitous. She used the example of how you can watch violence on television and not look away because it is presented not as information but as stylized entertainment.
She cites Suzanne Collins' wildly popular trilogy, "The Hunger Games," as being a novel that deals with violence in the appropriate and realistic way. The main character of "The Hunger Games," Katniss, deals with trauma and the natural repercussions of violence.
Once Gay got to the reading, her tangents were hysterical. She described her crush on Channing Tatum, who she said people have tried to turn her off of by saying he looks like a potato, "as if potatoes are not delicious!" and said she liked his big neck and Magic Mike. She also mentioned her sexual fantasies include Mr. Rogers, and Beyoncé occasionally, and led to her short non-fiction piece about being attracted to her UPS delivery man and his cute brown shorts. Despite all the laughter and jokes, the reading took a turn for the dark and serious when she decided to end her reading with, "What We Hunger For," an alternate title to "Bad Feminist" and an essay that deals with her sexual assault. She described her unexplained loneliness as a girl despite having loving parents and being a talented student. She felt this void in her that made her crave male attention. Her essay related to the audience, almost entirely female, who could all remember feeling vulnerable, desperate, and lonely in adolescence.
Roxane Gay's advice to young writers was, "work hard, say things that matter, be you, and believe in your voice." The last piece of advice she shared was that she had tried to change her voice when she was younger to fit the sound of someone who could write for "The New York Times" and other serious publications, but said it was bad writing that lacked authenticity. She said part of why she didn't believe in her own voice was that there weren't a lot of people who looked like her and wrote like she did, so she lost her faith. Check out her two published works: "An Untamed State" and "Bad Feminist."
Leave a Comment