Snowy semester slows curriculum for some
A phone call, a voicemail, a text message, and an email: it's another snow day, and Suffolk students might have an extension on their latest assignment, or, they might not.
This semester, both students and professors have had to adapt to a new curriculum in response to the snow days.
For some professors, the make-up classes held on President's Day marked the first time they were able to meet with their students, more than a month into the spring semester.  Suffolk canceled classes on two and a half Mondays, two Tuesdays, and one Wednesday. As a result, courses that meet once a week on Monday nights have not had many classes at all, complicating curriculums for both professors and their students.
Mark Rotondo, a senior lecturer teaching Communication Research Statistics on Monday nights, decided not to hold class on President's Day, and so only very recently put faces to the names on his roster.
"It was nice to actually meet them so we could do our original icebreaker you usually do the first class," Rotondo said with a laugh of his first class meeting.
When Rotondo realized the snowstorms that pounded Boston would interfere with his class time, he immediately took to the web, posting on Blackboard as a replacement for physical class meetings.
"Since our classes did not start that first Monday [Dr. Martin Luther King, Jr. Day] and we immediately lost that next Monday because of the snow day, I put together a series of PowerPoints and lecturing notes that I would have covered in the class," he said.
Rotondo said that as the snow days kept piling on, he kept up with the online material, including Kahn Academy videos that could aid students in completing assignments, and said that Blackboard has been essential to him in keeping students updated.
"I use Blackboard for a variety of reasons. It helps me incorporate a lot of the materials so students can look up material when they're not in class," he said.
Rotondo said that his utter reliance on these online components this semester has created a learning experience for him, and that because of the success his posted videos have rendered, he will consider using more online supplements in future courses.
Though web correspondence has boded well for some during this time of disarray, the fact remains that it is not the same as in-class communication. For sophomore Ricky Morin, having his History of Samurai professor attempt to assign material online did not work out as well as he hoped.
Morin, currently enrolled in a once-a-week Monday night course, found that an email containing extra assigned reading to make up for missed class time did not make its way into his inbox, causing him to fall behind. Though frustrating at first, Morin said that his class is otherwise functioning as normal amid the confusion of this semester.
"I think we were able to make it work and hopefully it goes smoothly going forward," he said.
This time in the semester usually marks midterm season, but with the complications surrounding class time, Morin said some students may not be prepared enough for tests at this time.
"Considering the Monday night classes have only met twice, in most situations I think it would be unwise to have a midterm at this point," he said.
Sophomore Greg Lafuente, enrolled in a once-a-week Business Law class that also only meets on Mondays, disagrees, asserting that students are responsible for their own success in any class.
"I think every class is all on the students," he said. "You either read the material and do the work or you just don't. Why should a day of not having class get in the way of you learning the material?"
Rotondo said that though the snow days have interfered with the university's ability to function normally, he still believes students are getting the most out of their time at Suffolk.
"It's unfortunate with all these snow days, but I'm sure they'll get the best education," he said.
Leave a Comment
About the Contributor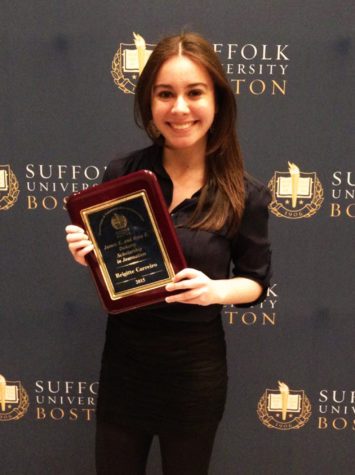 Brigitte Carreiro, News Editor
News Editor for the 2015-2016 year, print journalism major and intern at the Improper Bostonian magazine.