SGA forum introduces next year's candidates, who all run unopposed
The C. Walsh Theater carried a casual, excited atmosphere as Student Government Association members filled the seats. On stage, three candidates for executive board, running unopposed, sat in front of microphones, waiting for the 2015 Student Government Debate to start. Among discussed topics were commuter students' obstacles, plans for a new website, and continued student outreach programs.
As nominations are now closed, the candidates for this year will make up the 2015-2016 SGA executive board.
Director of Student Leadership and Involvement Dave DeAngelis stood at a podium as moderator and cracked  jokes as the audience settled down and current SGA President Tyler LeBlanc announced it was time to begin.
DeAngelis introduced the candidates: current Vice President and junior Colin Loiselle for president, freshman Senator Sean Walsh for vice president, sophomore and Public Relations Committee co-chair Brianna Silva for secretary, and Class of 2017 Treasurer and sophomore Cam Viola for treasurer.
Viola, currently studying abroad at Suffolk's Madrid campus, was not present at the forum.
Loiselle said one of his main goals as 2015-16 president will be to continue student outreach to aid in creating resolutions between students and the university. For example, Loiselle acknowledged the looming sale of the Archer and Donahue buildings, and said that "making sure clubs still have a place to program" is important to him.
"It helps us figure out what peoples' issues are so we can address them," he said.
Walsh said that as vice president, he would like to make SGA's open forums more accessible to student clubs and to "have more of a partnership" with them, enabling student organizations to voice their concerns directly to SGA.
Silva, who is also a contributor to the Journal, said she hopes to continue to play a major role in what goes on within the Public Relations Committee, which she is also a part of, in order to create effective relationships among students.
"Our goal is to make someone's experience at Suffolk a positive one," she said.
A video that Viola filmed played for the audience, in which he spoke about what he hopes to accomplish as treasurer. Viola said he wants to facilitate the process of communication between Suffolk's clubs and organizations and SGA's Finance Committee, make sure budget hearings are dealt with professionally, and be a comfortable resource for students to approach whenever needed.
Viola hopes that letting more students know that the student activities fee that is a part of every student's tuition goes directly to our clubs and organizations will motivate more students to get involved on campus. He also said that his duties as treasurer hold a great deal of responsibility, and he wants to strive to make sure that all budgeting decisions are made as fairly as possible.
Audience members asked questions about commuting.
Loiselle, in mock seriousness that elicited laughter from the crowd, said, "My favorite thing about Boston is the MBTA."
Jokes aside, Loiselle addressed the current complications surrounding the university's commuter students, advocating for them on a professional as well as personal level.
"I couldn't agree more with the frustration of getting to class," said Loiselle, a commuter himself. "I think SGA plays a role in advocating for commuter students."
He discussed his plans to continue creating programs alongside Program Council that are geared towards commuter students that he hopes will allow them to unwind after difficult travels.
Walsh voiced his thoughts on students' involvement during Suffolk's time of change.
"I think we need to use our leverage to work with administration and changes that they're making. We need to be involved. Students should be a big part of the equation," he said.
SGA's weak presence on the university's website was brought to attention, and Silva announced that SGA will be developing their own website this coming fall. According to freshman Senator Kim Ginsberg, part of the PR Committee and in charge of the creation of the website, it will include links to SGA's Facebook, Twitter, Instagram, and email; lists of their ongoing initiatives; pictures and bios of the executive board members; and a calendar of events.
"We're constantly going to be trying to engage students," said Silva.
Leave a Comment
About the Contributor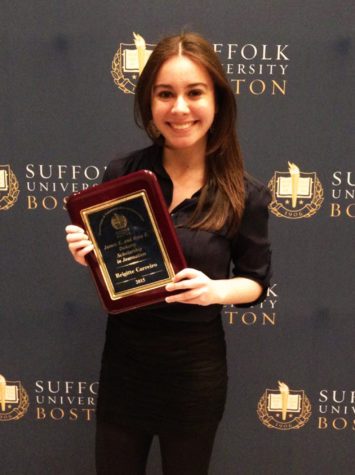 Brigitte Carreiro, News Editor
News Editor for the 2015-2016 year, print journalism major and intern at the Improper Bostonian magazine.