Views on black studies and curriculum differ
The month of February may remind some of appreciating their significant other on Valentine's Day, school vacations for most high schools, or like this month, a record amount of snowfall.  But the second month of the year is also the 28-day celebration known as Black History Month.
Some professors at Suffolk have differing opinions on how black history is presented to students in the classroom.
Currently, black studies is only available to students as a minor. The program was founded in fall 1994, and is described as an "interdisciplinary course of study that spans history, the social sciences, and the humanities," according to Suffolk's website.
Director of the Black Studies Program and Associate Professor Robert Bellinger believes that in order to increase the amount of education on black history provided to students, the university would have to do more.
"It would have to be something of interest to the university, first thing. It would take the university to be interested in having a truly diverse curriculum," Bellinger said.
Not only is it crucial for students to study black history, but, "It is very disappointing that we haven't moved beyond questioning whether or not the content is valuable," Bellinger said. "That's frustrating to me because it shows people have not been paying attention."
How Suffolk decides to put together such a curriculum is by looking at history in a broad scope, according to Chair of the History Department and Professor Robert Allison.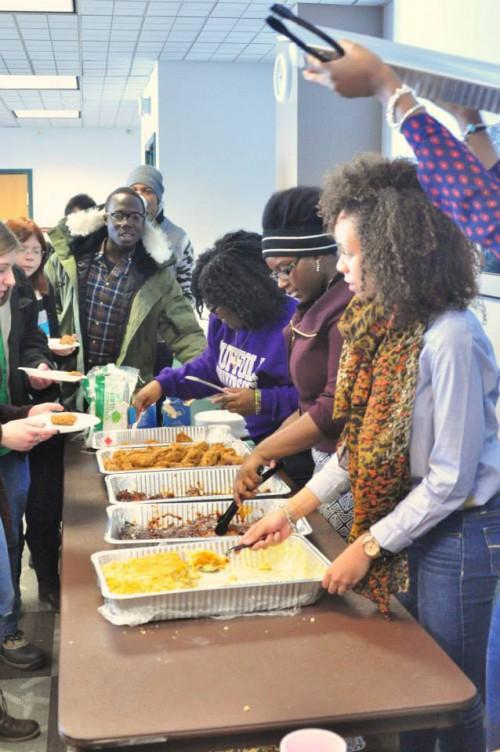 "As a historian, I look at what is the history, what has made history what it is. You have to look at the experiences of people, the development of the American nation … you look at conflict and pieces of the puzzle," Allison said.
Although Allison does not specifically teach classes on black studies, the subject does come up in his courses as it is a part of American history, he said.
Suffolk's curriculum correctly presents black history to students because "all of our courses on American history do inevitably have an African-American piece of it as part of it," he said.
Teaching students about important figures in black history, such as Martin Luther King, Jr. and Rosa Parks, is important, Allison said.
"What captivates me about King was his Letter from Birmingham Jail, which is such a great articulation of time and of this particular moment, it was a very reflective and powerful statement of what he is doing and why he is doing it," he said.
Whether it is colonial America, the evolution of slavery, or the civil rights movement, "I think all of us teach a history that involves all the people that have made America," Allison said.
Suffolk has posted flyers in dining halls and academic buildings that read "Black History Month," some of which list events commemorating the month. Though, some students said they feel as if that is all the university does to celebrate such a remarkable part of U.S. history.
Margret Siafia, president of the Black Student Union, shares a viewpoint similar to Bellinger's, in that Suffolk could do more to celebrate Black History Month.
Throughout the year, but most specifically during Black History Month, BSU hosts programs such as the annual African diaspora, talks that examine recent police brutalities, and creative events that include activities such as African head wrapping. These events are designed to educate others on black culture.
"Suffolk doesn't really contribute to history month. It is mostly based on BSU and Diversity Services," Siafia said. "It's hard to get people to come and get educated, but it's extremely important to get as many as possible, not only black, but others too."
Siafia said that she took a black studies course her freshman year and liked learning the history of Africa, but wished Suffolk would offer more courses for students.
"At our first general meeting of the year, a girl came up to me who was interested in joining, but said she might transfer because Suffolk's black studies isn't strong. That's a pretty big deal. We want to bring this up at an SGA meeting at some point," she said.
Suffolk has to generate more interest as a whole in order to improve its black studies program, according to Bellinger.
"I think the university needs to see it as something that is part of the curriculum and part of what the university wants to provide," he said.
Leave a Comment