The Department of Communications and Journalism has announced that the 2015 Rammy Awards, set to take place in April, is canceled.
Due to a shortened timeline for work and lack of submission, the department, which decided to cancel the event last week, felt it would be best to take a year off.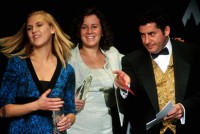 "Not a lot of material has been generated, primarily due to the weather. Rather than put on a show that was not up to our standards, we decided to take a one year hiatus," said Dr. Bob Rosenthal, chair of the CJN department.
The show, which would have run for its seventh consecutive year this spring, features multi-media submissions from students across all university departments in several different categories such as Hard News, In Depth Reporting/Documentary, Fiction Short, and Photography.
Despite this one-year hiatus, the department said they have full intentions of bringing the show back to campus in spring 2016.
Check Wednesday's edition of The Suffolk Journal for more information.