Senior Series: CAS scholars willing to travel for dream job
Having a definite plan following graduation is always the dream, but is not always attainable. For some College of Arts and Sciences seniors, the path to postgraduate success isn't always a straight one.
Daveson Perez, a broadcast journalism student, is not entirely sure where his degree will take him come May, but hopes that a small television station in Mississippi will make his decision clearer. After participating in the Alternative Spring Break trip in Biloxi, Mississippi last year, Perez, a sports broadcasting hopeful, became acquainted with professionals at their local station, WLOX-TV, and is considering applying to positions there.
"They said they would want to see my résumé, so hopefully there's a sports position, but I'll take whatever I can get as long as I can get my foot in the door."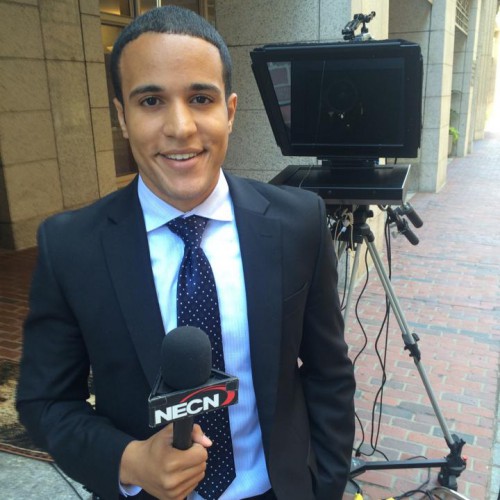 Perez said that his ultimate goal would be to make it onto ESPN as a commentator, but understands the hard work it will take to get there.
"It's a very big dream, and I realize that, but I'm also realistic to the fact that it's going to take some time to get there," he said.
Another senior, Paula Dixon, graduating in May with a degree in public relations, also doesn't have a crystal clear plan of where she'll be following her last semester at Suffolk. Sticking close to advisors from the university's Career Development Center, she has applied to a full-time internship in New York City, where she hopes to move after graduation.
"I'm starting to think doing a little bit of a full-time, paid internship would be cool to do before really diving into a whole professional career," Dixon said.
Jack Morton Worldwide, the company she applied to, is "looking like the place I want to be," Dixon said.
Although some seniors know where they want to be following graduation, it is not always a straight shot getting there. Perez said that this particular field is challenging to break into.
"The difficult thing about broadcast journalism is that it is such a popular field that whoever works in it finds it very hard to leave," he said. "The fact that there are so many passionate, motivated, young professionals that want to graduate and do what I want to do makes the whole thing very hard in terms of finding a job."
Some students find that picking majors directly correlates to eventually finding a well-paying job, but Dixon and Perez both said they made decisions solely on what they enjoyed doing. Perez said that being "realistic" was never something he was worried about.
"I think that if you feel confident and have that belief that you want to do it, you can make it happen despite all the hurdles and obstacles," he said.
Dixon is on the same page, and said that after switching majors many times, she finally decided on public relations. An internship last summer in the field only solidified her decision.
"Now that I'm starting to think about jobs, and after I've done an internship with a PR company and loved it, I definitely know this is what I want to do," she said.
Finding a secure job following graduation is something most sought-after by seniors, and Dixon said that she is feeling the pressure.
"Income is always the biggest worry for me," she said. "Personally, I've always wanted to live in New York, but it's getting very expensive to live in that city, so I have to start thinking realistically."
Perez said that although his plan is not yet completely set in stone, his time at Suffolk has made him excited for what the future will bring for him.
"Having real world experience and working alongside people who have been doing what you want to do for years, that's a very powerful thing," he said. "It keeps the dream alive."