'Better Call Saul' serves fans with a dose of dark comedy
When "Breaking Bad," one of television's best dramas, ended, fans wanted more. So, when its creators announced there would be a prequel starring criminal/lawyer Saul Goodman, fans rejoiced. The creators would be giving us a new story that connected to "Breaking Bad" and we get the much-loved Saul Goodman back.
The series was given a two-night première, the first episode on Sunday and the second on Monday, shows a post-identity changed Saul Goodman, working as a manager of a Cinnabon in Nebraska. We see Saul quietly working his shift and then coming home to a drink, where he plays old tapes of his famous commercials and title of the series, "Better Call Saul."
He reminisces and takes us to a few years before the events in "Breaking Bad." Saul, known in the show as James "Jimmy" McGill, is defending three young men against charges of defiling a corpse and performing random sex acts with its head. We then realize that this is not the Saul Goodman we were accustomed to, but rather an unsure and down-on-his-luck lawyer who can't seem to catch a break.
There's obviously a parallel between Breaking Bad and Better Call Saul. "Breaking Bad" was about a high-school chemistry teacher, Walter White, navigating his way to the top of the drug industry and becoming "Heisenberg," while "Better Call Saul" is about Jimmy McGill establishing himself as a lawyer and becoming Saul Goodman.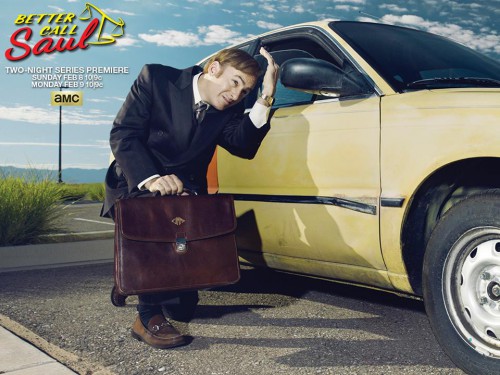 Viewers are given some Easter eggs and some old characters from "Breaking Bad," like Tuco Salamanca and Mike Ehrmantraut. These weren't surprise appearances because they were advertised in trailers, but the show makes it interesting to learn how all these men's stories tie together. Another similarity with "Breaking Bad" is its familiar dark yet comedic vibe.
Although "Better Call Saul" has the potential to be great, it faces the problem of being predictable, since we know what happens to the characters in "Breaking Bad." Even if they give us a few twists and turns, they probably would not want to unintentionally alter the show's original storyline.
This is the problem with prequels in general, especially when they tie-in so closely with another TV show or movie. There's a sense that we know what's going to happen and we are no longer asking ourselves "what's going to happen?" but just "how's it going to happen?"
And often times, there's a ceiling for a show like this. The characters can't be too successful or the characters can't win because it undermines the accomplishments of the original show. Just like the show "Gotham," Jim Gordon can't be the one to win and beat the criminals of the city because it would mean that Gotham does not need Batman. The same goes for "Better Call Saul's" Jimmy McGill, who can't be the guy to handle the dangerous criminals of New Mexico because that will be Walter White's job. But unlike "Gotham," "Better Call Saul" is far more entertaining.
In Bill Simmons' podcast, the BS Report, he mentioned to his guest comedian and "Breaking Bad" guest actor Bill Burr, that "Breaking Bad" was having trouble with its ratings until Netflix came along and people were able to binge watch the show. "Better Call Saul" falls into that same category. Both episodes have had cliffhangers or ended abruptly, leaving viewers with more questions than answers. "Better Call Saul" is enticing and amusing so far, but viewers may want to wait to watch the entire season on Netflix to fully enjoy the show.
Leave a Comment