New app blends best of photo-sharing media
By Maria Baluch
If you love telling stories and showcasing your adventures, there's an app for that! Pinyata is a cool new app that lets you and your friends share stories through photos, GIFs, and text. CEO and founder of Pinyata, Steven Puri, said the app is, "the easiest and best way to post all your photos and videos together with your friends and have silly fun." You can also follow artists and friends to see what they are sharing, collaborate to tell stories together, and instantly share any photo to other sites such as Twitter and Facebook.
Puri's inspiration came from similar picture apps like Instagram and Snapchat. Unlike Instagram, however, Puri said they wanted Pinyata to have the ability to post photos together when friends were together because, "it takes more than one photo to tell a story."
Likewise, Snapchat's lack of ability to store the fun photos that are shared was something Puri wanted to achieve.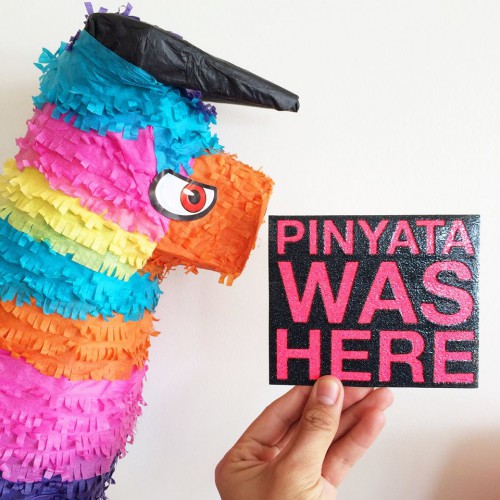 But, Puri doesn't want to compete with these apps, but rather be in harmony with them.
Puri said Pinyata is the place to put all the fun stuff with your friends that you want to save. It's well organized for you to revisit, practically like a story of your fun night, along with your friend's.
"Its like your group journal of fun," said Puri. "It was simple in our minds. We'd build something we wanted so all of us could post together a ton of silly stuff about what we were doing."
After launching Pinyata in the App Store, it would receive tens of thousands of users who, according to Puri, say they have been "waiting for an app like Pinyata."
Hannah Simone from the television series "New Girl,"  musician Gerard Way, singer Tyler Glenn of Neon Trees, and lead singer Travis Clark from We The Kings are just some of the celebrities who use the app to share their adventures with fans.
Puri said Pinyata is for anyone who likes to take pictures and videos together and write funny texts to one another.
"Finally, an app where I don't feel like I'm climbing on a soap box to reach the masses. This app allows me to really tell a story rather than pick one picture to sum up my whole day," said Pinyata user, Laela White, who rated the app five stars.
The feedback from users has been tremendous and the app is being discovered very fast. It was posted in the App Store about 10 weeks ago and this week, users are viewing up to 937,460 stories in just one day, according to Puri.
As for the future of the app, Puri said, "Every single night we read every single user comment that comes in, the stuff users love and what they didn't and we try each night to make Pinyata one percent better."
"Our hope is that we made something to delight every single person on earth and to let them connect with their friends in a way that's fun and authentic."
Pinyata requires iOS 7.0 or later and can be download for free in the App Store.
Leave a Comment