New ad campaign aims to build image of university
In the heart of Boston, Suffolk University has been ranked by the Princeton Review among the best colleges and business schools in the country, and is among "Boston's Global Top 5." The university's new advertisement campaign was set in motion to not only accentuate its positive image, but to tell its success stories to build upon its positive reputation. Suffolk University's Chief Marketing Officer Dan Esdale collaborated with Stamats, a promotion and advertising agency that specializes in higher education integrated marketing, according to its website.
"I think if this campaign hits the right note, it's going to have the impact we're looking for," Esdale said. The motivation behind the new advertisements comes from Interim President Norman Smith's vision to bring light to Suffolk's accomplishments, he said.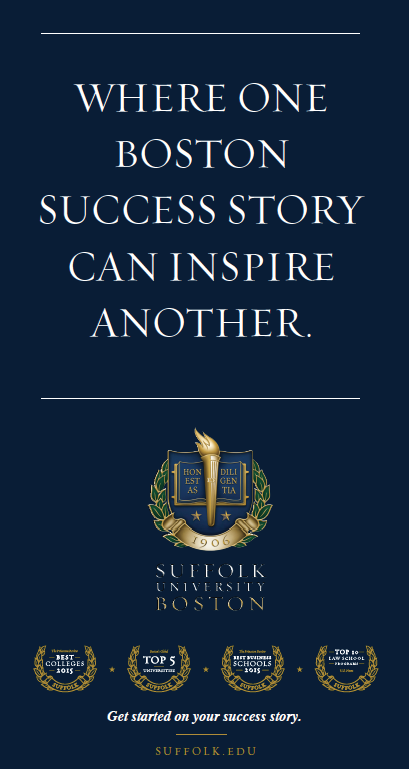 Suffolk's previous marketing strategy put in place by former president James McCarthy included advertisements displayed around the city. Devito/Verdi, the company who created ads for that campaign, is well-known for its keen ability to turn heads with its provocative ads. Smith's first action in office was canceling the campaign.
"Stamats has come to the university, they've met with the president and faculty, and they've met with a number of people here on campus to get to know the university," Esdale said. "This is the first step in a long process to build the image of the university."
Stamats creates higher education marketing for institutions including the University of South Carolina, Harvard Graduate School of Education, Hastings College, Providence College, Norwich University, University of Michigan, Buena Vista University, and Ramapo College.
The overall tone of this campaign is to "position Suffolk as a success story," Esdale said, stressing its rankings and the fact that Suffolk is one of the top five global universities in Boston.
In addition to new advertisements that can be seen on the MBTA, and recently featured in The Boston Globe and The Boston Herald, a new brochure sent to students portrays the university in a new light.
"Brochures were distributed to high school and college counselors to build the visibility of the university," Esdale said. The new advertisements are primarily focused on increasing Suffolk's visibility in the greater Boston area.
Brochures that were also sent to current and prospective students exemplify the university's points of distinction, profiles its students and alumni and their success stories. It "gets across the student experience and benefit of getting an education in the heart of Boston," said Esdale.
Being an alum himself, Esdale points out that he is "really focusing that we are centrally located, and the opportunities and outcomes of that experience."
The new ad campaign is hoping to help the university become closely aligned with Boston's top schools.
"Anytime you can put Suffolk in the same tone as Harvard and MIT, that's the message we're trying to get across," Esdale said.
Leave a Comment