Senior Series: Sawyer students anticipate diplomas, embrace the future
"There's so much potential for anyone to do anything. Anyone can succeed in this world. As long as you want it and have that drive and self-motivation, you're going to succeed." So said senior Will Dasco, an accounting major getting ready to jumpstart his career.
With graduation looming, seniors are making major decisions that will shape their lives following the end of their Suffolk University career. For some, this can be an intimidating process.
"Choosing your career is obviously one of the most significant decisions you will make in your life, and when you want to find a career that makes you happy and fits your interests, not knowing exactly what's going to happen can be stressful," said senior marketing and management student and SGA Secretary Dennis Harkins. "But it's also exciting!"
Searching for a successful, enjoyable job, as Harkins said, can be difficult, but for Dasco, working at Hillstone Restaurant in Faneuil Hall for the past couple of years has made his choices easier.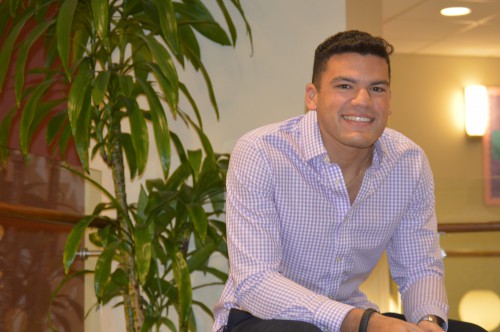 "I feel like I've changed as an individual by working there," he said. "I realized I wanted to move up in the company."
As a result, Dasco accepted an offer for the restaurant's management program and will soon be moving to Washington, D.C. to pursue a full-time career in restaurant management.
Finding success after graduating from college is an objective that most will strive toward for many years. Some Sawyer Business School students are feeling the pressure, but are using it to motivate them to achieve their goals.
In addition to finding a job, students will make the decision of whether or not to pursue graduate school, which Harkins decided early on was something he wanted to do.
"Given that graduate degrees are almost a requirement now for many careers, I wanted to continue my education while I'm already in the mindset of being a full-time student," Harkins said. He plans to start a one-to-two year graduate program in September and is looking into the Suffolk, John F. Kennedy School of Government, and Boston University programs.
According to Dasco, pursuing a business degree was not always his plan. Starting as a biology major to fulfill a childhood dream of working in medicine, he realized that the program was not the right fit for him and moved on to the business school.
"I've always been very business-oriented. I always knew that it was my alternative to medicine," he said.
Harkins also took time to realize what he wanted at Suffolk, and said that he spent almost two years figuring out his path.
As an accounting major, Dasco said that although careers in the field are very high in demand, he feels that searching for a job is still extremely difficult.
"I don't think it's ever been easy, and it's especially difficult nowadays," he said. "We're competing with 60 other schools in Boston. You need to do everything you can to make yourself stand out."
Dasco said that the demand to find a job immediately after finishing college is definitely an obstacle.
"Everyone talks about 'the real world' as if it's this anomaly. As a senior, you feel so much pressure to get out there and find the job of your dreams," he said.
Despite the difficult search, Suffolk provides resources that Dasco believes are invaluable. He mentioned that SBS provides helpful professional development, including résumé-building and bringing business representatives to campus.
"Suffolk has all these seemingly simple things that people write off," he said. "There are some brilliant people that work at this school and genuinely want to help students. People just need to take advantage of the resources."
Harkins agrees, and said that figuring out what to do after graduating college is both difficult and thrilling.
"It can be stressful, but embrace it because it's one of the most exciting decisions you'll make about your future," he said.