Suffolk University has canceled its Art Loan Program with New England School of Art and Design. In the past, this collaboration between NESAD faculty allowed for work by the faculty to be displayed in offices in the 73 Tremont building, according to Paul Andrade, a senior lab instructor at NESAD. However, the Suffolk Law School's Art Loan Program is still in effect.
The program began eight to 10 years ago at the Law School and has since grown. According to Andrade, the Law School had a small budget for artwork, most of it from a corporate loan program with some of the established Newbury Street galleries. The Law School invited faculty to join the program, and faculty could submit their work for approval.
According to Andrade, if the artwork is borrowed, the university takes it on loan and pays the artist a yearly fee until the asking price of the piece is paid.  All of the work is priced on equal loan terms rather than by an appraiser on an annual contract with each artist.
To clarify, Andrade explained that if a piece is agreed upon by the university and the artist to be worth $500, the artist will have a contract with the university to be paid $100 per year for five years.
Andrade, whose artwork had been on display through Art Loan, said he thought the program was a great way to connect a somewhat segregated campus.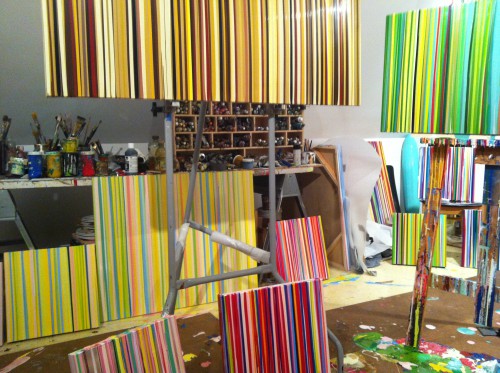 "It got a lot of us engaged in going over there and looking at the space and we got to meet some of the deans. We got to meet some of the students who got to look at the work on an everyday basis," said Andrade. "I know it made me feel that they respected what we were doing and they respected that we are creative people and they didn't forget about us."
When faculty needed to decorate a blank wall, they could request the artwork straight from NESAD.
"It's nice to have original work whether it comes from us at NESAD or if you go to another gallery. When you have original work, it says volumes about what you value," Andrade said. "Obviously, Suffolk doesn't value posters, they value something called artists. They value something that is handmade, made in a limited amount of time. It was a really nice thing that they've done."
A Suffolk University spokesman did not respond to a request for comment. College of Arts and Sciences Dean Kenneth Greenberg said he was aware of the cancellation but was not aware of any reason for it.
Andrade, who has 34 pieces at 73 Tremont, said he has spoken with administrators and faculty about Art Loan, and said the general consensus is that they love the program. He said people in the building requested his work and believes this is because his art is full of bright colors and is very similar to modern art without being challenging or controversial.
Faculty was informed six months before the cancellation that the program would not be continued in 73 Tremont, although the Law School's program is still ongoing. However, a specific reason for the eradication was not provided, according to Andrade.
Andrade was affected by the cancellation, and although he wishes for it to continue, he understands the university had a reason for terminating it.
"I felt like it was an end of an era. I felt that the school couldn't afford to place their resources in that department," said Andrade. "Just pure conjecture, I believe the school is looking for a way to use those funds that are more student-centric."
In a separate effort, the Student Government Association has created a program in which student work from NESAD is on display in Sawyer Library.