CJN department moving to 20 Somerset
Twenty Somerset, Suffolk University's $62 million dollar building that is set to open in Fall 2015, will be the new home to part of the communication and journalism department. Now housed in Ridgeway, officials have confirmed some of CJN will be leaving its home of more than 20 years.
Set to be located on the fourth floor of 20 Somerset, one side will be dedicated to public relations, journalism and advertising, the other to media production, according to associate professor and chair of the CJN department, Dr. Bob Rosenthal.
On the media production side, there will be a media editing lab, an editing and sound lab where students can record audio clips in private, and an editing lounge. There will also be a TV production lab, a place to store equipment, a control room, a lighting and sound room, and an office for Director of the Media Lab Jason Carter.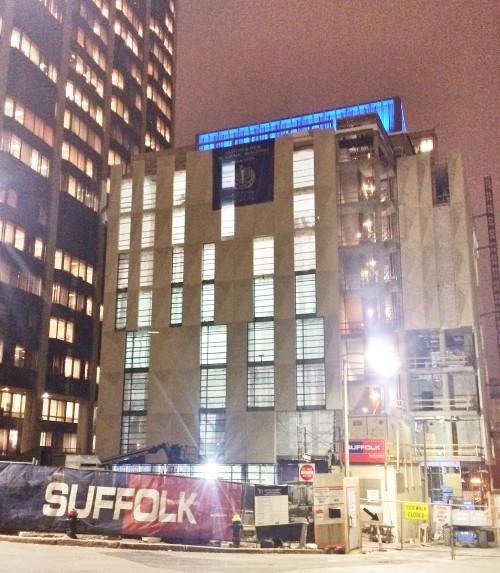 The public relations, advertising, and journalism side will have a newsroom, a center for applied communication where students can monitor social media and news on TV screens and work in groups on computers, and full-time public relations professors will have their offices there as well.  Although some of the CJN department will move, half will still have offices in Ridgeway, mainly advertising and journalism staff. 
It is not yet clear if the entire department will relocate to 20 Somerset after fall 2015.
There will be communication and journalism classes taught on the first, second, and third floors of 20 Somerset.
Rosenthal presented the idea to members of the boardand said it was met with great enthusiasm, as decisions were being made about what classrooms will be relocated into the new building.
"The key here is we are getting state-of-the-art facilities," said Rosenthal.
President Norman Smith, Senior Vice President for Academic Affairs and Provost Marisa Kelly and Dean of the College of Arts and Sciences Kenneth Greenberg were all in favor of the move, according to Rosenthal.
"The President and the provost were both very supportive of us," the department chair said. "They recognized our students needed better facilities."
President of WSUB, Suffolk's media and video production club, Hannah Tavares said the blueprint made her confident the CJN classes and clubs would get the space they need to thrive.
"I think the new blueprint shows that we're going to get a space of our own," Tavares said. "It's really important because Ridgeway is small. I really like how their offices are set up and everything is in the same area, you get that theater feel."
Although she is a senior, Tavares said she is looking forward to students having a sense of community in the new building.
"For production, it's vital for some creators," she said, sitting in the media production area of Ridgway. "We see all this money we pay to our school, it doesn't translate to money for equipment. It's very cramped. Moving to 20 Somerset will make it seem like it's a full department."
The building is set to open in the summer of 2015, and will be open to students in the fall.
Leave a Comment