In a society where the competition and standards of success are fierce, it can often leave people feeling totally stranded, forced into a perpetual state of independence, where asking for help is often frowned upon and viewed as a sign of weakness.
Musician and Artist Amanda Palmer challenges this in her first book, The Art of Asking. In her colorful and artistic language, Palmer chronicles the different stages of her life, from angst enveloped teenager to world renowned musician. Her extensive experience with a copious variety of different people from around the globe allowed her to come to the realization that asking, no matter for what or of whom, is a universal challenge that our society wrestles with.
Although asking has been a concept she has struggled with throughout her life, whether it be for some extra cash to pay her rent or for people to come and listen to her perform, the challenge became particularly noticeable when she decided to break free of her record label and rely entirely on funds from her fans which were collected through Kickstarter, a crowdfunding site where fans and sponsors can directly give funds to enable artists and musicians, such as Palmer, to make their art independently. Amazingly, the Kickstarter for her most recent album, Theatre Is Evil, raised more than a million dollars, making it the most successful crowdfunded music project in history.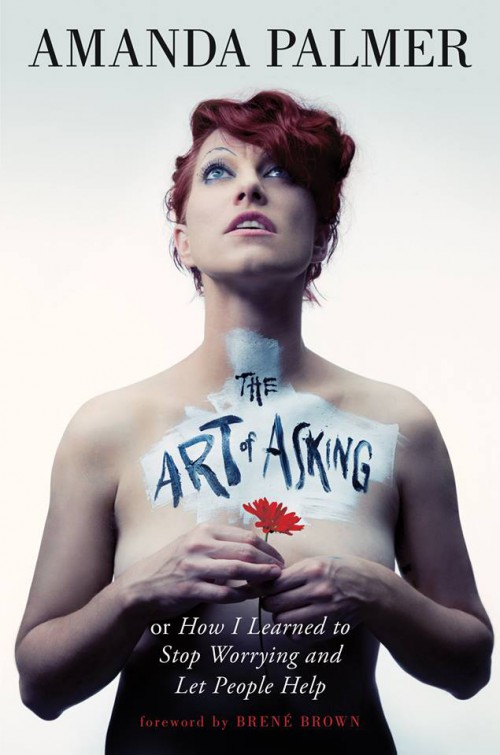 As a result of this success, TED, a series of non-profit global conferences, asked Palmer to give a talk, which she centered around the challenges of asking others for help. To her surprise, many people came up to her following the talk to tell her how greatly her words had touched them. It was then that Palmer realized that she was not alone in her struggle of asking, but rather it was a challenge that countless others faced.
"From what I've seen, it isn't so much the act of asking that paralyzes us, it's what lies beneath: the fear of being vulnerable, the fear of rejection, the fear of being seen as a burdensome member of the community instead of a productive one," says Palmer.
The book also focuses on the importance and vulnerability in self-expression. As a street performer in Harvard Square, Palmer learned much about what it meant to ask people for things as she stood for hours on end, posing as a bride, handing flowers to strangers who would walk by. In itself, she argues that art and self-expression are forms of asking, inviting an audience of strangers to observe what you have created and plead with them, as Palmer does, "PLEASE. BELIEVE ME. I'M REAL."
Palmer's writing is both poetic and powerful. She does not use the preachy prose of what you would expect from a seemingly typical self-help book, but rather weaves her endearing sense of humor into practical and inspiring thoughts and observations. The points that Palmer raises throughout the book pose a simple answer to a difficult task for the overwhelming majority.
In a way, the book acts as a gentle and reassuring nudge to stop worrying so much about asking for things and open up to the graciousness that other people have to offer.
The Art of Asking is not only an enjoyable read, but also an important one for anyone who is battling any amount of self-doubt, stress, or uncertainty. Palmer's lighthearted and witty style sheds a hopeful light on a lingering issue that is relevant to readers of all ages. However, the book holds a special significance for young adults, particularly college students who find that asking for help is an astonishingly hard pill to swallow.