Suffolk's entrepreneurs stood at the podium, faced with just 60 seconds to present their business ideas to a panel of judges at the annual Pitch Competition.
Members of the Entrepreneurship Club hosted the event, and had to bring extra chairs to meet the growing audience's needs.
Though pitching a business idea in less than a minute may seem straightforward, it proved to be more challenging once each speaker had their turn. Many competitors talked right up until, or just after, the 60-second mark, and seemed surprised that they had so little time.
"It's important to give them practice refining their message … Entrepreneurs are essentially salespeople," said Suzyn Ornstein, one of the judges at the competition and an entrepreneurship and management professor at Suffolk. "It's really hard to have message delivered concisely and effectively in 60 seconds."
Freshman Kaitlyn Tanyer won the competition with her design for a laptop case that also keeps the user's papers and notebooks organized.
Her idea "really came from wanting a place to put all my stuff when I'm travelling … and I figured there was a big market out there for it," Tanyer said. "I thought it would be a really sick product to bring to the market."
The idea started as an assignment for her business foundations course. She went beyond the assignment, creating a few prototypes by modifying existing ones.
"Ideally, I want to have a mold made and have actual ones made up," Tanyer said.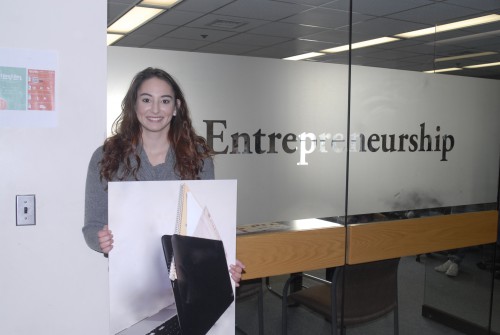 She impressed the judges with a thoroughly informative pitch, according to Ornstein.
"Her presentation was very clear, very logical, very effectively communicated. She addressed issues like why her market had a need, who the market was, how to approach them, and she included next steps" for her product, Ornstein said.
Stephen Hopkins, who also pitched that night, noted the difficulties of pitching a business idea.
"The pitch competition puts the entrepreneur in a difficult and somewhat uneasy position. Trying to fully explain complex concepts to a large group of individuals, judges, and an angle investor given such little time is not an easy thing to do," said Hopkins, a sophomore and entrepreneurship major. "However, it is ideal practice and can vastly improve your skill set," he added.
In an email, Hopkins described his pitch, Metropolitan Society, as "an online magazine dedicated to fashion, design, architecture, food, and urban culture."
While some of the pitches were still only ideas, other presenters had already developed prototypes to show the audience.  Around 40 of their peers and professors also came to watch and support them.
Entrepreneurship and management professor Robert Smith said, "I was very impressed by the students Thursday night. We saw a wide range of presentations, from those with developed ideas and well-coached pitches to students taking the opportunity to receive feedback and practice the short delivery of a message in a high-intensity context."
Tanyer said she spent days practicing the pitch in her head to fight the nervousness she felt before the competition.
"Many of these students have little or no experience pitching their ideas, and it takes an incredible amount of courage to make yourself vulnerable like that in front of your peers," Smith said.
But entrepreneurs don't only pitch their ideas to investors; they have to be able to explain their venture to many people, according to Hopkins.
"In our line of work, to gather content and work with stores and businesses, we must consistently pitch our idea and explain our motives behind it," said Hopkins. "It is important to tailor your pitch to right people, and fully and efficiently explain the problem you are fixing by pursuing your venture."
The pitch competition is one of several events planned for the celebration of entrepreneurship month.