Aidiana Sagyndykova: GNAC Player of Year for women's tennis
Last September, after traveling nearly 6,000 miles from the place she called home in Almaty, Kazakhstan, Aidiana Sagyndykova had just began her freshman year at Suffolk University and made a last minute decision to join the women's tennis team.
More than a year later, the 19-year-old sprung into a sophomore standout, winning 13 consecutive matches for the Lady Rams and earning the Great Northeast Athletic League's top honor as 2014 Women's Tennis Player of the Year.
"Last year, she joined the team three weeks late but [we're glad she did]," said Head Coach Steve Counihan. "She's all that a coach could ask for, she works hard, and fundamentally she's very skilled which is so important in tennis."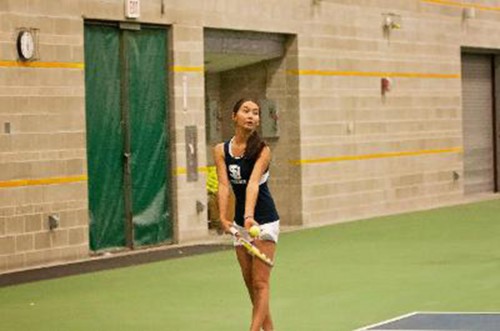 Sagyndykova's 2014 performance ties the modern day record at Suffolk for most victories in a single season. She finished 13-1 overall and a perfect 6-0 in GNAC singles play. In doubles, she and partner Adrianna Garrett were 11-3 on the season.
In addition to the league's Player of the Year recognition as voted by the league's head coaches, Sagyndykova received First Team Singles All-Conference honors and was named to the 2014 GNAC All-Tournament team.
"We've had some good players in the past, and it remains to be seen how she'll go down in the end, but right now I have to say she's one of the best players we've ever had, if not the best," said Counihan.
Sagyndykova said she worked hard in the offseason, playing about three days a week all summer and working on specific aspects of her game with her teammates and coaches during the year, but she didn't expect the results to pan out like they did.
"I guess it just happened," she said. "I was just playing hard for the team and for the school, but I feel great. I've never received anything like that so it's very exciting."
The 5-foot-9 ace attributed her success to her teammates and coaches at Suffolk, especially after having joined the team late her first year.
"They've been really great to me," she said. "They're so supportive, and when I first came in they were really great in helping me and making me feel welcome."
Counihan said Sagyndykova returns the same type of support to her teammates on and off the court each day.
"She just makes the other kids better," he said. "When she's at practice the play is a lot quicker and the other girls have gotten a lot better since she joined the team last year."
As a team, the Lady Rams finished the season 8-7 overall and 4-2 in the conference. In post-season play, they advanced to the GNAC Semifinals before falling to Johnson & Wales University 5-2.
As for what's next, Counihan foresees a bright future for Sagyndykova with two full seasons still left of her collegiate career.
"I see her close to getting some New England recognition, aside from the GNAC, and getting to compete in Intercollegiate Tennis Association play and seeing how she does there," he said. "I think she will go a long way. She's just going to get better."
Leave a Comment