Baker surpasses Coakley to become governor
After a tight gubernatorial race, Charlie Baker emerged as Massachusetts' 72nd governor when Martha Coakley conceded Wednesday morning, according to The Associated Press.
As of 1:50 a.m. Wednesday morning, The AP said Baker was in the lead with 48.36 percent of votes, while Democrat Martha Coakley came in at 46.68 percent.
Baker follows Democrat Deval Patrick, who assumed office in 2007.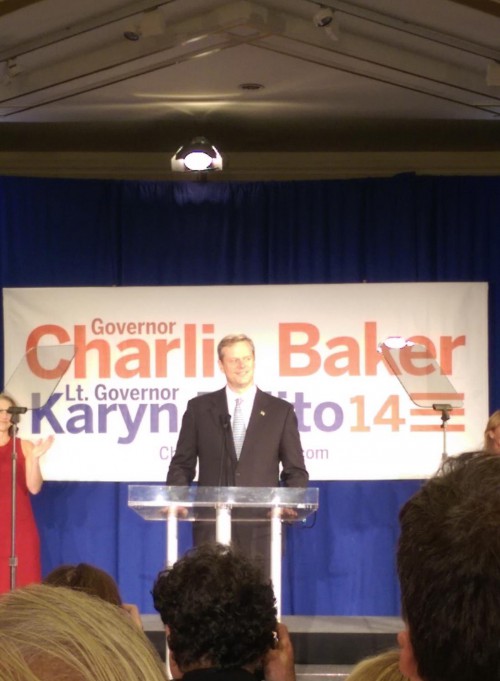 In a speech early Wednesday morning, Baker said "It's been a long, long ride and it's been bumpy at times, but we always knew that our vision to make this state great, improve our economy, close that achievement gap in education and bring the kind of fiscal discipline and balance to Beacon Hill and bipartisanship that so many people responded to over the course of this campaign was the right way to go, and tonight the voters said 'Yes.'"
Baker is the former CEO of Harvard Pilgrim Health Care, and, according to his website, spent the last three years as an Entrepreneur in Residence at the venture capital firm General Catalyst Partners.
Karyn Polito, his running mate, is projected to be the Lieutenant Governor of Massachusetts.
President of Suffolk GOP Paul R. McCormick, who was present at the Baker headquarters when the projected win was announced, said, "It's really exciting because we waited
eight years to make a change and Charlie Baker and the team have worked really hard in the past 13 or 14 months and it's really paying off … The change is going to be the best for everyone. It's not drastic. It's smart, and that's what important. It's moving to be more fiscally conservative but also maintaining some of the liberalism with our social issues which is not a bad thing either. I think that's the best kind of governor to have."
The President of Suffolk University College Democrats did not immediately respond to requests for comment.
Suffolk University Pollster David Paleologos said early Wednesday, "We're pleased that the statewide poll results were pretty close to the actual totals even though they are not official yet."
The latest Suffolk University/Boston Herald polls predicted that Baker would beat Coakley by three points. He actually won by two. The same poll predicted that New Hampshire Senator Jeanne Shaheen would win by three points. She also won by two.
Rich Rubino, of the Huffington Post, and author of The Political Bible of Humorous Quotations from American Politics spoke with the Journal about the national race, and the Massachusetts gubernatorial race.
"I think what happened [in this race] is it's the sixth year of a presidency which is usually called the sixth term itch. In midterm elections, usually the president's party loses seats in the House and Senate … It's kind of like buyer's remorse.You elect the president and then you get sick of them."
On the projected governor, Rubino said, "Charlie Baker is the quintessential Republican that wins in Massachusetts … It's an amalgamation of fiscal austerity and social tolerance. You have to appeal to independent voters and that is the formula that appeals to independents."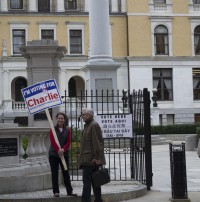 At around 3 p.m. Tuesday, Colette Clifford stood outside the State House hugging a sign boasting Charlie Baker. The Beacon Hill resident was one of few promoting either gubernatorial candidate outside the building. During her time outside, Clifford said she talked with a handful of Suffolk students.
"I've had a lot of students come to ask questions," said Clifford, whose son graduated from Suffolk Law School. She said that one student in particular wanted to know Baker's stance on the legality of marijuana.
Greg Fortier, a senior, said he voted on Tuesday mostly because he had strong opinions on the ballot questions.
"I think that was mostly what prompted me to go out and vote," he said.
Political science major John Medlinskas, who voted for Baker, said, "I knew the election was going to be very close, the campaign was going to be close … With a Republican Governor, we will have more bipartisanship and two sides of an aisle. The people of Massachusetts will have a voice."
International economics major Biry Diagana, who has no political affiliation, said, "I followed the elections, but wasn't able to vote because I'm not American. I also stayed pretty neutral the entire time, between Baker and Coakley, but I was just interested in seeing if the majority of Americans would favor a Republican or Democratic governor more."
According to Mass Live, the ballot questions resulted in no gas tax indexing, meaning the gas tax won't be adjusted every five years to the rate of inflation; there will be no change in the laws regarding beverage container deposits; three casinos and a slots parlor will be coming to  Massachusetts across three regions; and employers having 11 or more employees can use 40 or more hours of sick time per calendar year. These were questions one through four on the ballot, respectively.
Democrat Ed Markey was re-elected as U.S. Senator of Massachusetts, Democrat Maura Healey was named Attorney General, Democrat William Galvin was elected to Secretary of State, Democrat Deborah Goldberg was elected as Massachusetts treasurer, and Democrat Suzanne Bump was re-elected as auditor.
Melissa Hanson contributed to this report.  
Leave a Comment