Article by: Ethan Long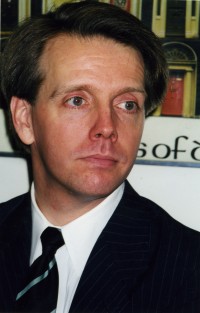 When WGBH first signed on in 1951, composer Aaron Copland told those listening in that it was "heartening to know that a station is now on the air broadcasting programs designed to be of interest to an adult mind." Nearly 60 years later, the station is still broadcasting programs, though a format change at the end of last year caused the programming to shift from a music station to a station full of talk programs. One of these programs, the Callie Crossley Show, lives up to what Copland broadcast decades ago. The show covers subjects reaching from the day's news to topics that are creating buzz around the area. On Friday afternoons, Crossley brings in Dr. Thomas Connolly, an associate English professor at Suffolk, as they go through hot topics from the week on a segment called "Ragtime."
"Moment to moment, high falutin' , hyper-intellectual discussion that slides down the banister into intellectual slapstick," said Dr. Connolly, describing the segment. "We talk about the headline-grabbing stories of the week as they are treated by the tabloid press, the sensational press."
A few hours before his segment is set to broadcast across the area, Connolly sits in his office inside of the Fenton building, which is decorated with images of the past; entertainment figures that would have been easily recognized by past generations, but could be forgotten within the next few. Connolly, whose family has lived in Massachusetts since colonial days, attended schools around the area, such as Boston University, Tufts University, and Suffolk University. For thirty years, he has lead a professional life, including jobs as an actor, film critic, and film scholar, but he is most proud of his time spent as a theater critic. Connolly indulges himself in the world of popular culture today, but doesn't forget the past.
As a professor, Connolly interacts with student culture on a daily basis, and finds that popular culture is impossible to live without. "It's oxygen, how can you not talk about it? One of the things that infuriates me about the public perception of university life is the phrase 'ivory tower'." The phrase has been used since the 1800s to describe a place where thinkers pursue actions not associated with everyday life. Universities are a prime example of such an 'ivory tower,' yet Connolly thinks that the world doesn't stop at the tower's gates. "I believe the classroom is not separated from real life."
"Tragically, as the events at the University of Alabama represent, and other instances, college is the real world, and to disassociate one's self completely from what's going around you in culture, I mean I may teach literature and plays and such, that all comes from popular culture. I, myself, despise rock music, I loathe creatures like Prince, but I have to know about them, I have to be a part of my world."
"I'm an elitist and a snob. I think the University should only have high cultured things…"
In his perfect world, Connolly suggests that people would go out to the opera, or even watch a black and white movie with subtitles in the theaters, a luxury today which only a few decades ago could have been an afternoon in Harvard Square, although today opera has seen a surge in attendance. "Opera is becoming the most popular of all the performing arts; it has the only audience that is growing younger, and that is one of the signal evidences that the world, is in fact, getting to be a better place," said Connolly. "It's so spectacular. People like Peter Gelb, who heads the Metropolitan Opera; it finally dawned on them that this is what young people like; it's loud, noisy, colorful, and crazy. Instead of selling it as, you know, Verdi and Wagner, and the musical connotations and so forth, which is great, they sell it as a spectacular phenomenon."
Other forms of entertainment have also been successful in transferring into this century. "I think [public radio] is growing, especially now that it's gone online," said Connolly, talking about the surge in listeners that broadcasters such as WGBH have seen since formatting their programming online, where audiences can also catch the Callie Crossley Show. Crossley is an Emmy-winning journalist who has also produced programs such as ABC's 20/20 news program. She currently heads programming for the prestigious Nieman Foundation for Journalism at Harvard University.
"Crossley is fantastic. She is such a great conversationalist and host; she is so articulate and is interested in everything and knows about everything. She also doesn't make it about her, even though it is, which is genius," Connolly said. "Callie is very interested in the media. She's interested not only in the on-the-ground approach to sensational news stories, but the intellectual or cultural aspect of it."
Connolly, too, prides himself on discussing cultural aspects on an intellectual level. On the subject of today's media, he told the Journal that he is intrigued by Alec Baldwin, brother to many, and star of NBC's 30 Rock. "I follow his every heartbeat; I'm infinitely fascinated by him. I've read his book and was crushed when I couldn't go down and meet him when he was reading at Borders. 30 Rock is one of the best shows on television," said Connolly.
Connolly reads the news, the tabloids, and has to keep up with his world. When the press brings up a point, Connolly has an opinion. Some say that Lady GaGa is this generation's Madonna, an argument that has been debated more than some would like to admit. "That's why I like talking about pop culture on a higher level. Because while there are a lot of superficial resemblances between Lady GaGa and Madonna, they're fundamentally different. Also, Lady GaGa hasn't been around long enough to be compared to Madonna. If she is a chameleon the way Madonna is, then that might be a more valid comparison," said Connolly.
Suffolk University, along with many other colleges across the nation, sponsors events on campus that attract their students through use of pop culture. Connolly explains that this isn't a way to broaden the horizons of students. "I think they should do it on their own. I'm an elitist and a snob. I think the University should only have high cultured things, because pop culture is everywhere. You don't have to encourage the consumption of pop culture, the consumer-fed industry, what you need to do is send people to the MFA, where if you're a Suffolk student, you can go free. That's what they should be doing," said Connolly, who's "intellectual" segment "Ragtime", appears on the Callie Crossley Show on Fridays, and listening is an activity that students can consider high culture.
The Callie Crossley Show airs weekdays at 1.