SUPD works on app in hopes of increasing safety
The Suffolk University Police Department published its annual security and fire safety report last week, revealing statistics on campus crime and data on how the university deals with incidences like sexual assault.
SUPD has a limited police escort program, as noted in the report and by Chief Gerard Coletta in an interview with The Suffolk Journal. In order to supplement that, SUPD is in the process of purchasing a smart phone application to be a "virtual guide" for students who cannot be physically escorted by an officer.
Coletta explained that a student can tell the app where he or she is going and what mode of transportation he or she is using the get there. The app then calculates how long it should take the user to get to his or her destination. If the person's arrival time or speed vastly changes, the app would alert SUPD who would then call the person's phone.
"It looks like a pretty good system," said Coletta, who will demo the app next week. The chief believes a large number of students will use it just based on the number of requests SUPD receives for escorts.
Though the app will come out of SUPD's budget, Coletta believes it will be free for students and will be accessible in any part of the city as long as the user's phone has cellular service.
The app is being made with cbord, who also makes the Suffolk Ram Card, Coletta said.
Aside from working on the app, SUPD is examining how the university handles reports of sexual assault, which are receiving more attention than in years past from colleges and from the U.S. government.
The last time a sexual assault was reported on campus and recorded in accordance to the Clery Act, was in 2010; there were two in that year, Coletta said.
"We've investigated sexual assaults in those years, but not sexual assaults that needed to be reported or that were required to be reported under Clery," Coletta said. "It's not whether we want to or don't want to report them. its that the law specifically says 'you report this and you don't report this.'"
College and university police departments are required to release a report including crime and fire statistics by Oct. 1 each year in accordance with the Jeanne Clery Act.
For the first time, the report included incidences of domestic violence, dating violence, stalking, and updated information on sexual assault, Coletta said.
In 2013, there were two incidences of domestic violence and one instance of dating violence on campus. There were no recorded incidents of stalking.
There were two arrests on campus in 2013, both for drug law violations, according to the report.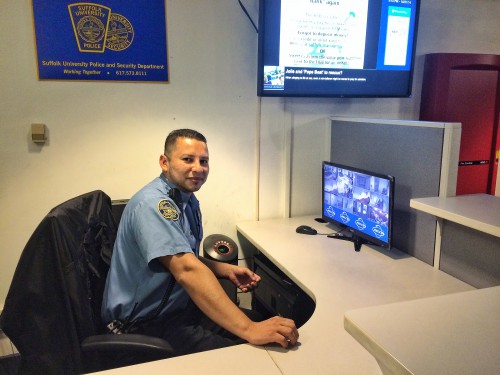 Coletta said the university typically has a low number of arrests on campus, and most incidents are referred to student discipline for action. In 2013 there was one referral for possession of an illegal weapon, 36 for drug law violations, and 263 referrals for liquor law violations.
The total number of referrals in 2013 was lower than the totals in 2012 and 2011.
The last time there was a fire on campus reported in the security and fire safety report was in 2011, recorded in the act as arson to papers on a bulletin board in 150 Tremont.
There was a fire on campus in 2014, Coletta said, which will appear in next year's report.
The report was emailed to every Suffolk student on Sept. 30 via umail.
"This is something we talked about during freshman year at orientation that I think everyone should read," said Justin Brochu, a sophomore, of the report.
SUPD is composed of 33 sworn police officers, who carry a baton and pepper spray, 33 security officers, who do not carry a baton or pepper spray, five dispatchers, three civilian employees, and 15 student security officers, according to the report.
The Boston Globe recently reported that the University of Massachusetts Police Department used a student as a confidential police informant. The student informant later died of a heroin overdose, according to the article.
When asked if SUPD would ever use student informants, Coletta gave a stern "no."
"We don't have an informant program, nor would I ever anticipate having one here," he said.
Now that the report is out, SUPD is focusing on the app and other safety and training programs on campus, Coletta said.
Sophomore Emily Dyer said the app sounds like something she would download.
"It should be relatively easy to use. Sometimes you don't know you're in a dangerous situation until you're in it, so you shouldn't be struggling," Dyer said. "I think it's a really good idea for people who not only live off-campus, but for everyone across the city spectrum."
For the remainder of the year, SUPD will be reviewing its policies and procedures and working on more training for handling reports of sexual assault at the university, Coletta said.
"We're looking at training for the whole university," he said. "We're keeping pretty busy."
Leave a Comment