The Cantab Lounge draws diverse poets and audiences
By Alexa Gagosz
In the basement of what looks like a quiet bar that only attracts some action on  Friday and Saturday nights, Cantab Lounge in Cambridge hosts the Boston Slam Poetry Readings every Wednesday night. With a small bar in the back of the basement and a stage in the front with simple lighting, it doesn't look like much. But the crowd, including some of the regulars who read on the open-mic every night, make it worth the elbowing and tight space.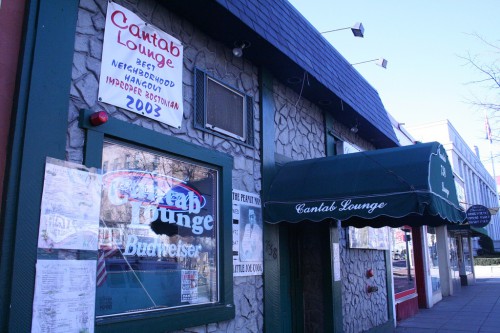 With only a $3 entry fee, this 18 and older hideaway is perfect for those who write or enjoy the rhythm of abstract and contemporary poetry. Their mission is to open themselves to a diverse audience and performers in order to nurture a positive environment for new open-mic performers, as well as presenting a feature poet. They continue to evolve the genre with diverse, liberating topics from the performers such as homosexuality, drugs, sex, and other contemporary issues.
Wednesday's featured poet was Sean Patrick Mulroy, a poet who grew up in Southern Virginia. He moved to the Boston area to work on several different projects including music, art, and poetry.
One of Mulroy's latest works called, "The Pornography Diaries," explores love and sex through media studies and film. He has performed in art galleries, concerts, festivals, and universities in 10 different countries on three different continents. He has participated in 16 national competitions and is the 2014 Individual World Poetry Slam representative for the Boston Poetry Slam. He has written and recorded four albums of music and has sold over a thousand copies of his poetry. He has also been featured in a long list of publications including, "Best Indie Literature of New England," "Flicker and Spark: A Contemporary Queer Anthology," "Network Awesome," and "The Good Men Project."
Mulroy is a regular co-host at the Cantab Lounge on Wednesdays and co-curates the LGBTQ reading series, Moonlighting, an open-mic and reading series dedicated to the queer poetry community, held once a month at Fazenda Coffee Roasters in Jamaica Plain.
Fellow co-host Simone Beaubien, who has operated as the "SlamMaster" for the past 10 years at the Cantab describes Mulroy as a "loyal but difficult friend nonetheless, he knows how to play with language like no other."
On Thursday the "Moonlighting" event for the month of October was held, where Mulroy and Emily Carroll are co-hosts with help from Michael Monroe. Carroll, a performer and bartender at the Cantab on Wednesday nights, and Monroe, who, like Mulroy, has been a national finalist in Slam Poetry.
The team introduced the open-mic readings to any poet with a diverse and wide-range of styles and topics. To finish off the night, poet Janae Johnson, who would describe herself as, "a Stevie Wonder-loving, Jamba Juice-sipping, slam poet, educator, and activist in the Boston area," performed.
Johnson is well-known for being the founder, advisor, and coach for the Simmons College poetry slam team. Her poetry is inspired by uncomfortable situations, shedding light on issues of racial inequality, homophobia, and love. She truly believes that "language is power" and encourages others to use it to speak out with their own voices. She was ranked fifth at the "Women of the World" Poetry Slam this year, and was the 2014 Slam Champion of the Boston Slam Poetry Team, and the 2013 Lizard Lounge Poetry Slam champion.
About the Contributor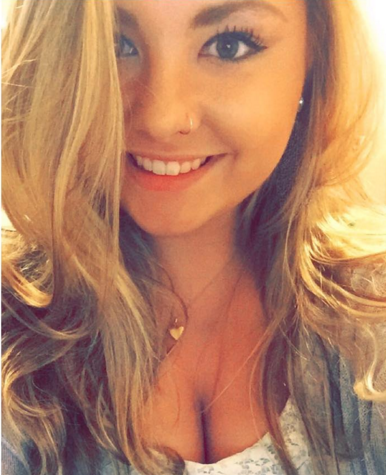 Alexa Gagosz, Previous Editor-in-Chief
Former Editor-in-Chief of The Suffolk Journal, fighter for equality and former World News Editor. Most likely found in The Journal's office, getting lost in the Massachusetts State House or frolicking around Boston Harbor. Thrives off of investigation pieces that consume her.