Women's soccer not backing down to anyone
By Madeline Scovotti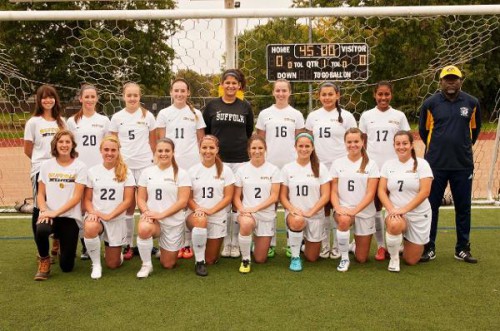 After matches filled with miserable weather and double overtime games, the women's soccer team ended their week with their third consecutive tie. 
Last Wednesday, the team played Saint Joseph's College of Maine and tied 2-2 with all four goals scored in the second half. The Lady Rams were initially up 2-0 after freshman forward Jessica Harmon scored two unassisted goals, one off of a corner kick and the other off of a breakaway.
But, with less than eight minutes left in the game, the Monks managed to come back and score the two goals that would leave the game in a tie even after an additional 20 minutes of overtime.
When the Lady Rams came out to play in the rain again Saturday afternoon, they started out slower than in previous games. The first half was dominated by Mount Ida who led 2-0 over the Rams. It wasn't until Hannah McNulty scored off of a penalty kick with less than five minutes remaining in the half that we saw that spark and drive to win return to the home team.
As the Lady Rams came out for the second half, it felt like a completely different team had entered the field. Within the first 15 minutes of the half, the Lady Rams fought their way back and were able to score two goals, both of which scored by Harmon. They held off Mount Ida for the majority of the remainder of the half, but with less than 10 minutes left in the game Mount Ida was able to score to tie it.
Even without the win, one of the top scorers for the team, Harmon, believes that this game was in no way a loss. She attributes the game turnaround to the team's ability to refocus and come back out strong. "I think that when we came out at the beginning, we weren't as pumped up as we usually were. After we scored off of that penalty kick, as a team we came together and got the job done."
When it comes to team goals for their upcoming game against Johnson & Wales, Harmon believes the team needs "to stay strong for all 90 minutes so that we can win the games instead of tying, we need the wins to make the GNAC tournament. We need to get comfortable with our new formation and stay composed."
Harmon's chief goal, however, is to win their upcoming game against Lasell, the team's main rival.
"Every time we make it to the finals we play them and we aren't successful. We owe it to the seniors to beat this team that we've always wanted to," she said.
Whatever the outcome may be, the Lady Rams have proven they will fight for the win through anything.