Suffolk University's Program Council (PC) has decided to make changes to their programming. This year, their major objective is to collaborate with other student groups to provide the best experience for Suffolk students.
PC recently made a decision to cut their Meal 'N Reel program because of low attendance.
"There was a max of 15 people coming, and even less people stayed to watch the movie," said Kelsey Johansen, the president of PC. Along with the low attendance, it was costing the club between $500 and $800 to pay Swank Motion Pictures, Inc. for the rights to play the movies.
"To not have the audience there was disappointing," said Johansen, who is a public relations major.
When they reviewed their numbers in February, PC decided to cut the program. Johansen thinks Netflix is a big reason for low attendance.
"They have newly released movies, and technology at their fingertips."  Despite this, Johansen mentioned that PC is still seeing a great turnout in their "Commuter Social" and "Fun With PC and SGA" nights.
As the university's largest programming board, PC decided to change the way they program and their goals as a club.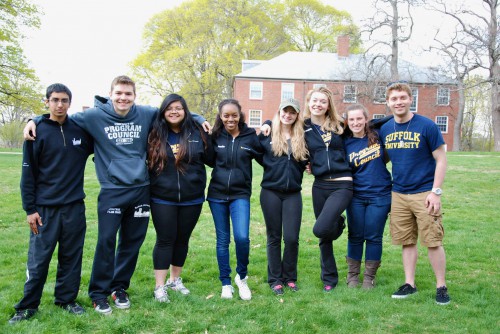 In the month of October, Suffolk PC is going to have a tropical-themed daytime event, with live animals on campus and smoothies to accompany them. They're also going pumpkin picking and planning to have an outdoor movie night on the Boston Common. But, working with the hectic schedules of Suffolk students is something the club always has to combat.
"We've come to terms with the fact that Suffolk is a commuter school. We've cut films and [have] introduced a Daytime Programming Committee that meets once or twice a month." Johansen said they try to "give commuter students something to do, and try to utilize different times so that [they're] not ignoring the [commuter] group."
Not only do they schedule to include everyone, they schedule to not exclude other groups from having their big moment.
"It's a big thing we try to avoid," Johansen said. PC plans their events well in advance, and tries not to schedule events on nights like the SGA Awards, or Suffolk's annual drag show.
"We know how chaotic those periods can get," Johansen said when asked about whether or not they run into problems when scheduling a meeting during Tuesday and Thursday activities periods.
The way that PC works is that the board is broken down into committees, including public relations, off-campus, publicity and promotions, and so on. In those committees, general members help to brainstorm what events they think should be happening at Suffolk. From there, logistics like finding a location and venue, day and time, and more are worked out, and then promotion happens.
"We put a lot of faith and thanks into Paula Dixon," said Johansen when referring to their publicity and promotions chair. PC does a mix of online (Twitter, e-mail, Facebook), and traditional advertisements like flyers, to try to get people heavily involved in the club. Along with making sure that they are collaborating with other student groups to schedule their own events accordingly, PC's major goal is to help promote other clubs and organizations.
"We as a programming board don't want to dominate the schedule. PC has established a reach on and off campus. Even if we can't support other clubs financially, we are always open to promoting them."
There's plenty to keep busy about at Suffolk PC. Johansen said, "PC is always looking for new members, new ideas, and even feedback. Please don't hesitate to reach out to us on social media or even in person."