Dean Kenneth Greenberg to return to teaching next fall
Dean Kenneth Greenberg, who has vacillated between teaching and being an administrator at Suffolk University for more than a decade, is happy with his decision to leave the dean's office and return to the classroom. He will officially be back on the faculty of the history department on July 1, and will be back to teaching next fall.
In an interview with The Suffolk Journal, he described teaching as his first love, and compared the classroom to a collaborative space where creativity and learning goes both ways.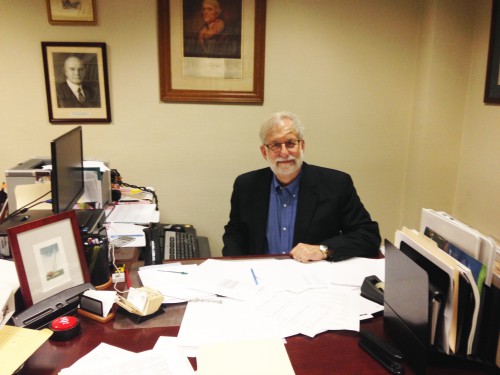 "Teaching something is quite interesting when one day you think you know something, and then you discover what you don't know," Greenberg said.
Chair of the History Department Robert Allison said, "Ken Greenberg loves teaching, because he loves people. He cares about his students, and also about his colleagues."
Allison, along with other Suffolk faculty and administrators, had anecdotes describing just how great of a colleague and teacher he is.
"He hired me in 1992, to teach two courses that fall.  Though he was, and is, a formidable scholar, I first saw him in action presenting his research at Harvard. He made it clear that teaching is the most important part of our jobs, and one of the most fulfilling parts of our lives.  'You really have to like the students,' he said once, not as a direct piece of advice, but as an observation," remarked Allison.
It seems that it is all about what takes place in the classroom for Greenberg. Although the population at Suffolk has notably changed since the '70s, and technology has cut into every classroom every where, Greenberg noted that, "In the end, the classroom is the same. When you're in conversation with students, it's a magical place."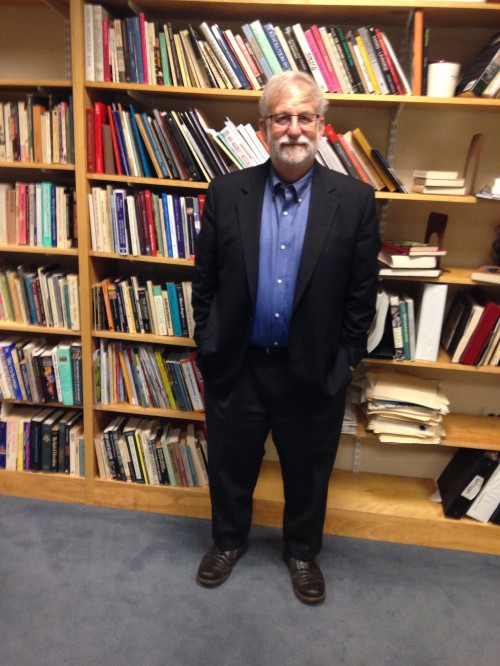 When asked what his favorite moments have been both as dean and as a professor, Greenberg said, "I couldn't pick one." He went on to describe one slightly disinterested, seemingly average student. "A student from the 1980s, from the Boston area" who wasn't really interested in school, and went on to become the head of women's studies at Purdue University, after becoming interested in history and, specifically, feminism and women's history.
To Greenberg, this is as good as it gets. But, he has had his share of successes as dean of the college as well.
To truly understand the scope of what Greenberg has done for the College of Arts and Sciences, one should read Associate Dean of the College of Arts and Sciences Lisa Celovsky's opinion of Greenberg. "I have been at Suffolk since 2000.  The great change I observed under Dean Greenberg's leadership was the transformation of the college into an institution with greater civic engagement and with a more intellectually vibrant community for faculty and students."
Celosvky goes on to summarize many of the changes that happened under his leadership. "We have seen the creation of a distinguished visiting scholars program, greater research funding for faculty (and for the students who serve as their research assistants in the Faculty Research Assistance Program), and the creation of the College Honors Program.  We also now have links to the local community through the African Meeting House, Ford Hall Forum, and the Modern Theatre." She adds, "He oversaw the development of two keystones of our undergraduate core curriculum – the Expanded Classroom Requirement and the Seminar for Freshmen – that connect students to the community through speakers, field trips, and service learning and that introduce them to tenured faculty and exciting academic topics even as freshmen.  He has truly helped us to develop our 'Teacher-Scholar' role for faculty. He also models that role himself.  The dean is an accomplished historian, and students will benefit from having the dean back in the classroom."
Associate Dean of the College of Arts and Sciences Krisanne Bursik says, "He has devoted himself to guiding the College through a series of internal changes and external challenges, and he has done so with grace, kindness and compassion."
Likewise, Associate Professor Bryan Trabold, who worked with Greenberg on the new writing center, opined that Greenberg's vision for the new writing center is the reason why from the 2009-2010 school year, to the 2012-2013 school year, writing tutors met with 289, and 710 students, respectively. "On a personal note, I am extremely saddened that Suffolk will be losing such a talented administrator, someone with genuine integrity who always made decisions based upon what he truly thought was best for Suffolk," Trabold said.  "But, Suffolk is very fortunate that he will  continue to be part of our community. We may be losing a top-notch administrator but we'll also be gaining a top-notch scholar and teacher."
Greenberg, who has been dean of the College of Arts and Sciences since 2004, holds a bachelor's degree from Cornell University, a Master's from Columbia, his doctorate from the University of Wisconsin, and has completed fellowships at Harvard Law School, the National Endowment for the Humanities Fellowship for College Teachers, and the Charles Warren Center in the history department of Harvard University. He is not only an academic, but a producer and author.
As an academic dean, Greenberg is responsible for hiring new persons into the College of Arts and Sciences. He is also responsible for allocating resources (and the budget) of the college, resolving all academic issues related to students, hiring associate deans, overseeing and updating the website of the college, managing public relations for the college, and presiding over faculty assemblies.
He was co-producer and co-writer of the nationally and internationally acclaimed film "Nat Turner: A Troublesome Property," has written several books on American slavery, and has published a number of articles, chapters, and essay reviews. To many, he is a mentor.
Greenberg, who has had a hand in staffing the College for the last 10 years, is looking forward to making the lateral move back to teaching. He believes that he will teach his specialty, American slavery, in the fall of 2015.
Leave a Comment