Women's tennis prepares for crucial conference matchups
The Suffolk University women's tennis team has started relatively flat this season.
The Lady Rams have not even had a sniff of conference competition, but have lost their first three games in a disappointing total set score of 3-24. The lack of winning sets the Lady Rams are facing is a minor concern since they started 0-6 last season, all of which were non-conference games.
Simmons is the next opponent on the schedule for the Lady Rams.
Not only is this the first home game for them, it is the first conference game of the season. This will be the start of a six game home stand (four GNAC games in a row) until Oct. 2.
The exits last spring of seniors Elizabeth Arkins, Melissa Chermely, Allison Weisenbach, and Stacy Politis, leaves a thin roster for 2014.
Other players will have the spotlight this season like Aidana Sagyndykova, Adrianna Garrett, and Rebecca Eshoo.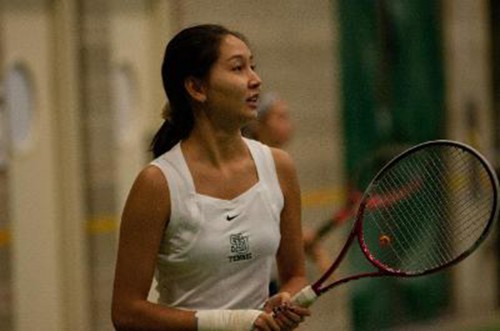 Sagyndykova might be the most notable name from last season after she finished the with a 5-3 record that earned her the nod for first team all-conference. It was the freshman year for the Kazakhstan native, but she looked right at home on the tennis court. She is one of two players who is capable of playing the No. 1 singles spot, and has already played twice as No. 1.
Garrett, a senior from Plymouth, Mass., is the other option for the No. 1 singles spot, but after three games it looks like she is a strong option at the No. 2 singles spot. She has started 0-2 this season, but has proven to be a strong No. 1 doubles teammate with Sagyndykova.
Eshoo, a junior who has had playing time her entire collegiate career, is projected to play the No. 3 singles spot. She had an impressive 7-6 singles record last season, so her experience in matches should help her play at a higher singles spot.
The highly important Simmons match will be on Sept. 17, but the Lady Rams will not have any other matches until they play conference rival Wentworth on Sept. 25.
The next month will be challenging, but it cannot be stressed enough how important it is to come out victorious in conference games in order to be in a competitive playoff spot rather than being a "one-and-done" team.
The Lady Rams made it to the GNAC quarterfinals last season because of their success in conference matchups, so the first steps to the playoffs this year start now.
Leave a Comment