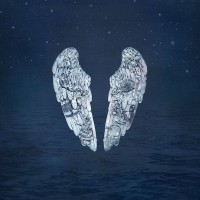 Cool, soprano notes and choral voices slowly come to life in the opening measures of the first track on Coldplay's newest album, Ghost Stories. The first track, "Always in My Head", then incorporates the unique and mellow voice of lead singer Chris Martin, setting the tone for the album.
Over the past few years, Coldplay's sound has evolved, as the band takes on a different style with every new record. Ghost Stories embodies a more traditional Coldplay sound of mellow piano, yet still veers off into a very different direction, remaining slow and mellow throughout, and incorporating innovative tools such as auto tune.
This sixth studio album strongly contrasts the style that the band exhibited in their last album, Mylo Xyloto, which was released in 2012. While Mylo Xyloto was fast paced and captivating, "Ghost Stories" takes a different approach, releasing equally as much emotion and creativity, but in a somber and symphonic way. In comparison to their previous work, Ghost Stories is a more modern, electronic version of their debut album, "Parachutes," which was released in 1999.
As "Always in My Head" fades out, the next track, "Magic" abruptly comes to life. The song, which the band performed on Saturday Night Live just prior to the album's release, has a catchy beat but still embodies the mellow, moody feel that remains throughout the majority of the album.
As "Magic" fades out and "Ink" begins, the mood changes with this upbeat love song. The song is lively, and Martin demonstrates the loftiest reaches of his vocal range. However, that energetic tune is soon interrupted as the next track, "True Love" begins.
Although this track also maintains a strong, steady beat throughout, the lyrics take on a darker, heartbreaking tone as Marin sings, "Just tell me you love me/If you don't, then lie/Oh, lie to me." As "True Love" fades out, "Midnight" immediately follows. This is easily the least impressive track on the album, with gloomy, inaudibly auto tuned lyrics that make for a repetitive song.
Following "Midnight" is "Another's Arms" which feels more like a filler track where a listener can quickly lose interest. Martin sings about the loss of a companion and the loneliness he feels without them as he sings, "When the pain just rips right through me/Another's arms, another's arms."
The next track, "Oceans" maintains the same lonely lyrics that are heard in "Another's Arms." As the sound of church bells fades out "Oceans" the beginning melody of "A Sky Full of Stars" begins. This song is the most lively on the album, exhibiting the bands famous piano tunes, coupled with an electronic beat that is lively and energetic as Martin sings, "Cause in a sky, cause in a sky full of stars/I think I saw you."
Finally, the album finishes with the ninth track, "O," which slows down dramatically from "A Sky Full of Stars" and compares love to a "flock of birds" as Martin plays romantic piano chords.
Overall, the album makes for an enjoyable listen. However, for Coldplay fans that favor the band's earlier work, such as "A Rush of Blood to the Head," the new sound will take some getting used to. The album is best for listening to on a rainy summer night or winding down after a long day, but "Ghost Stories" is by far the least impressive Coldplay album yet.