House of Lies Season 3 falls short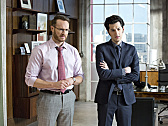 For the past three seasons, I have weirdly been intrigued by Showtime's House of Lies but its latest season didn't exactly captivate. It is a show that has kept me watching despite my lack of connecting with any of its main characters. Despite one or two episodes and the finale however, the storyline also failed to resonate this season.
Without giving any of the season finale away, it's certainly one worth watching. It does a phenomenal job of playing on the complicated relationship of the series' main characters, Marty Kaan (Don Cheadle) and Jeannie van der Hooven (Kristen Bell). The writers also did a fine job of taking a seed planted early in this season's storyline and having it come back to haunt Marty's new company, Kaan and Associates.
The finale is well done. The problem this season for House of Lies is that the rest of season really wasn't. From the Lex and Roscoe subplot starting in episode two to DollaHyde story that began in episode four, there just wasn't a ton of eye-popping moments.
Marty opening up his own shop seemed like a great realm for the writers to explore when Season 2 finished in 2013. The show even introduced some new co-workers for Marty, Jeannie, Doug (Josh Lawson) and Clyde (Ben Schwartz) to interact with. Unfortunately, new secondary characters Caitlyn (Genevieve Angelson) and Will (Ryan Gaul) just seemed stuck in a limbo of sorts.
Caitlyn is the more fleshed out of the two new characters but she was really just used this season to give Doug some marital problems with his wife, Sarah. Will provides some good jokes here and there but the only fact that is revealed about him is that he used to work for Marty's ex-wife at Kinsley and Associates.
The main storyline revolves around the inner-company struggle between Lukas Frye (T.I.) and Dre Collins (Mekhi Phifer) at DollaHyde. Marty and his team attempt to help Collins push Frye out of the company due to his very obvious gang ties and overall recklessness.
Bottom line: it's just not fun to watch Marty, Jeannie and Co. play referee between two company co-founders, albeit with a questionable rise to the top. Aside from episode four, nine and 10, the season's main story just feels stale and unexciting. It's dragged out too long.
The main characters also fail to deliver on the promise that this season showed after the Season 2 finale aired. Marty seems different than seasons past, actually becoming friends with his client, Dre. Despite seeming so focused on forging out on their own at the end of last season, Clyde and Doug come crawling back to Marty at his new company. Jeannie's cold attitude towards everyone becomes tiresome but she does bring about some of the season's more exciting moments.
Season 3 was sprinkled with some epic episodes, including the finale but they were muddled down in between too many yawn-inducing ones. This season began feeling like it was bringing a new direction and dynamic to the series. By the time it wrapped, all it felt like was a bridge to what could be a Season 4 that brings a new direction and dynamic to the series.