Men's tennis: Team of champions
The North Champions of the Great Northeast Athletic Conference (GNAC) are back and hitting the tennis courts this April.
The Suffolk University Rams are coming off another successful year and look to continue their streak of championships. Although they did not win it all in the new formatted divisions for the GNAC last season, they still came out on top in the North division.
The Rams come back with plenty of returning players including determined senior Drew Reilly, who went 7-4 in singles matches in 2013.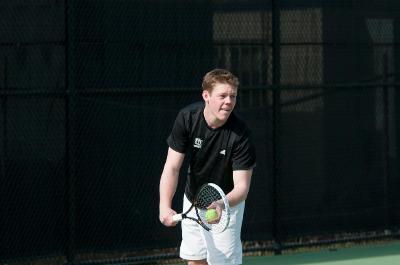 "I'm trying to focus more on the mental side of the season," said Reilly, a Boston native. "At this point in the preseason, I am physically prepared, so I'm taking the time we have before the season starts to be more steady and consistent."
Reilly is one of many returning from the starting six in singles, including Aaron Lau, Vassilli Stronganov, and Calixto Romero.
The Rams still have plenty of depth on the team to win, but they will have a rough road to perfection as  they have a four-game road trip early in April. All four games are in one week, and will feature Bridgewater State and a key conference battle against Johnson & Wales.
"I am not too worried about our week of road matches," said Reilly. "We're a team of veteran players, so we know how to travel and all four schools are less than an hour away. I don't see the long rides being a problem."
Even with some obstacles, it is hard to ignore the fact that the Rams have been so successful in the past few years, which makes this a team that is hard to doubt.
"I'm very confident about this season," said Reilly. "We had a great season last year…On top of that, our preseason has been great so things are looking pretty good."
Leave a Comment