The ceremony was short, but it was powerful.
Five months after a fire boot and donation box was stolen from the Hanover Street firehouse (Engine 8, Ladder 1) in the North End, about a dozen brothers from Suffolk's Sigma Alpha Epsilon fraternity presented a new indestructible donation boot to grateful firemen.
Firehouses across America collect donations for the Muscular Dystrophy Association in a firefighter boot placed outside the firehouse. In September, someone stole Engine No. 8's boot in the early morning, smashed it, and stole the money inside.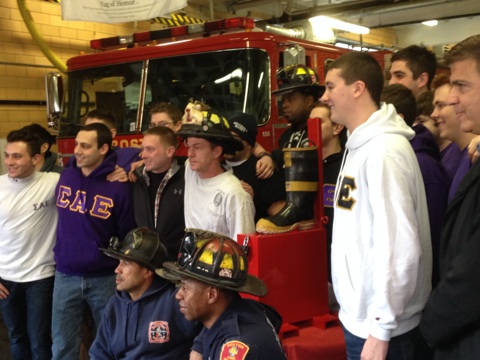 Like many people in the community, Kevin Flaherty, the philanthropy chair of Suffolk's Sigma Alpha Epsilon fraternity, was disturbed that someone would steal charity money from right outside a firehouse.
"Being in a fraternity is about giving back to your community," Flaherty said. He recommended that the group undertake a project to replace the boot, and the fraternity spent the fall semester working on that.
"A lot of us, and a lot of Suffolk students live in the North End, and call it home," Flaherty said.
SAE's creed begins "the true gentleman is the man whose conduct proceeds from goodwill and an acute sense of propriety…" Flaherty took the creed to heart when he heard that the local firehouse's donation boot was stolen.
"The creed of the true gentleman is what we look up to everyday," Flaherty said.
The event itself was short and intimate. A small crowd gathered in between the fire trucks and the garage doors in the firehouse as the brothers surrounded the boot, explaining why replacing the boot was important to them.
The boot and the secure donation box were manufactured by MetalTronics, a fabricator of Georgetown, Mass. Flaherty was connected to Jim Andaloro, president of MetalTronics, through a mutual contact. Andaloro proudly gave $1,000 at the ceremony, the first person to put money into the boot made by his company.
Firefighters took time to thank and chat with the brothers one on one. After the boot's unveiling, the brothers took some time to don firefighter gear and pose for pictures with the boot and firefighters.
"You hear a lot these days that, you know, young people aren't appreciative, young people don't give back, this and that," Lieutenant Eddie Stokinger said. "But what you guys did, we really appreciate it, and you show that young people do care about their communities. You guys are welcome to come to this station anytime."
The fraternity works on two or three charity projects per semester, Flaherty said. Their next projects will be a relay for life and a three-on-three basketball game for charity.