The start of change begins with a conversation and hopefully ends with an understanding. This week, the Best Buddies' chapter at Suffolk University hosted the event, "Spread the Word to End the Word," in order to discourage the use of the "R-word," and celebrate unity. It was one of the many Unity Week events sponsored by several clubs at Suffolk in the past week.
In the Suffolk Law School function room on March 2, the Best Buddies celebrated unity with dinner, "mocktails," and dance. Throughout the event, guests were able to socialize with other "buddies" and sign a petition to discourage the use of the "R-word."
"We're hoping to break the barriers between those with intellectual developmental disorder (IDD) and those without it," said Alexa DiMaro, president of the university chapter. "It's important for us to help reduce the stigma around these situations by talking about it. Every time the word is used, it's hurtful to those with intellectual-developmental disorders and their families." 
Best Buddies International is a non-profit organization that is dedicated to creating job opportunities and establishing one-on-one friendships for persons with intellectual developmental disorder. The program spans from middle schools through colleges, statewide and internationally. They serve the underserved.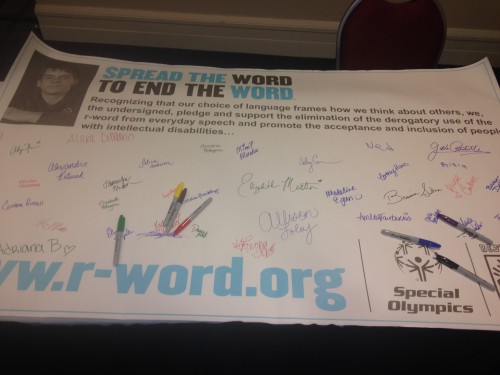 Buddy Ambassador Jennifer LeBlanc shared her story of verbal and physical abuse with guests in order to illustrate how difficult it is to have a disorder in a society that does not accept her.
"I've been emotional, depressed and suicidal. People have called me fat, ugly, short, dumb and stupid … I urge everyone not to be a bully, it can destroy lives and drive people to commit suicide," LeBlanc said.
Her message was received – offensive words can hurt others more than we can even imagine. Minding words and actions may be of small effort to one person, but can mean the world to the next.
During the event, Rampage, Suffolk's only show choir, performed.
Sophomore sociology major Paige Stanley said, "This is my second 'End the Word' event, and it's very intimate. It's fun to be able to hang out with different people from Suffolk, and all of the buddies. My favorite part of the event has always been dancing!"
Stanley's remarks stand in line with one of Unity Week's main goals, as stated on its web page. One of the goals is, "To provide a concentrated opportunity to share differing perspectives and cultures." Co-sponsors of the event included the Student Government Association, Professional Marketing Association, and Suffolk University Peer-Health Educators.
If you are wondering what should generally be used when referring to someone with IDD, it is generally recommended that one use a term specific to said persons mental or physical state, rather than a general term with negative connotations. Remember, this person has a disability, but their disability is not them, ambassadors said at the event. Referring to a person as having cerebral palsy is a lot more respectful and accurate than referring to them as the R-word, for example.
If you would like to become more involved in Best Buddies' International, take a look at their website, bestbuddiesmassachusetts.org, for volunteer opportunities or visit Suffolk University's chapter on Facebook to find out how to get involved.