She identifies as a "queer, fat, femme" and has inspired many through her fashion and writing to reform their ideas and accept their own selves regardless of their weight. Bevin Branlandingham, a performer and popular blogger that writes about self-acceptance, joined Suffolk's diversity services on Feb. 27 to discuss with students ways to fight negative thoughts about their bodies, as well as help others who are struggling with their own.
Branlandingham's blog is named "Queer Fat Femme," a three-word identity that she uses to describe herself. Branlandingham shared that it was through the acceptance of identifying herself as such that she began to live a happier and fuller life.
"I use these names because I spent most of my college hating myself, and I spent so much energy on that. It was what consumed everything in my head," she said.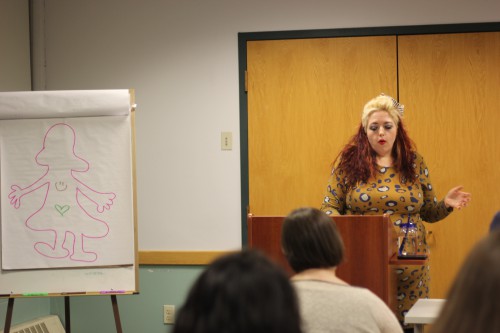 Growing up, her circumstances were not ideal and she had to manage through various external, such as bullying and being raised by a single mother, and internal issues that were damaging to her self-worth.
"One of the things about bullying is that it teaches you how to talk to yourself," she said. "I internalized everything that people told me, and I became the worst bully of all."
Branlandingham came out to herself and two friends at the age of 16, but she kept it to herself because she felt that she was not entitled to identifying a sexuality because of her weight.
"I was fat. Who would even want to have sex with me?" Branlandingham said.
It was not until college, when she involved herself in extracurricular activities that increased her self-esteem and triggered thoughts of higher self-worth that Branlandingham began to work with the way she viewed herself. One of the first things worked on was her style and fashion, an activity what would become life changing.
"I feel strongly that fashion was part of my revolution," she said. "For me, loving myself came from my decisions involving clothing, style, and letting that out."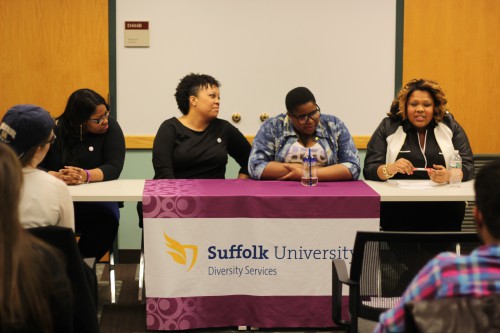 She learned to love herself when she learned to dress herself, to have the bravery to do what she wanted to present herself to the world.
"Style is empowering, and it is a really great way to make you form relationships with your body. One thing that is important is to try new things all the time. Find images online to give you inspiration. Life begins at the end of your comfort zone."
Branlandingham encouraged the audience to not be afraid to experiment and try new trends as they hit the stores. By trying different articles of clothing on, it helps us find which styles work best with our body, as well as makes us explore our curves and identities. Branlandingham said that clothing and style are also genderless, and that wearing what you choose will help you find what you love most about yourself.
"I believe very strongly in taking baby steps," she said. "If you have ever tried anything new and then felt like a total failure, you know what I'm talking about. Do not let that experience scare you away. The idea is to try new things until you settle in for what makes you feel the most 'you.'"
Branlandingham prepared a series of quick workshops where guests were able to list and share their ideas of beauty, discuss what they would change about the way media portrays how women and men should look, as well as reflect on their own views on others and on themselves.
One activity was having students draw themselves and point out which body parts they were most comfortable with and which ones they felt "complicated" with.
"Sometimes feeling complicated about your body is unavoidable," she said. "Even people who are body liberation activists have bad days, but it is really important to acknowledge whichever feelings you are having. That is part of the human experience and part of living in a world that is full of hate for who you are, what you are, and what and who you love."
Branlandingham advised that if you feel complicated about a body part, it helps to focus energy, positive thoughts, and love to that area of your body.
"Directing love to that part of you is a symbolic thing to fight back all that hate. When you feel complicated about a part of you, your body is just asking for more love to that part."
Branlandingham also discussed that health should not be equated with only belonging to thin bodies.
"It is important when adopting the idea to love all bodies that health exists in every size. This includes your physical, emotional, mental, and spiritual health."
To relate body size with health implies one to restrict our feelings and thoughts to the impressions our body may give to others, a false and weak belief.
"When you develop compassion people for other people," Branlandingham said, "you learn not to judge them. The more compassion you have for other people, the more compassion you have to yourself. You must work in solidarity with yourself to accept yourself."
Branlandingham reminded the audience that bodies are merely physical and hold no accurate representation of who we really are.
"It is just a body. The more you can be neutral about a body, the better. Bodies change, and many times they change from things out of your control. Bodies do not, and never will, have anything to do with your value."