Every year, Suffolk University's Office of Student Leadership and Involvement has a long-standing tradition of putting together unity week, a celebration of community and unity, or if written in stylized form, commUNITY. This year, students, faculty and administrators will all work together to host events that run from Feb. 22 until March 1.
"It's an opportunity for the entire Suffolk community to come together once a year to celebrate a couple of things: our community and the diversity of our community. We celebrate those things through education and opportunities for students to engage with faculty, staff and their peers," said Director of Student Leadership and Involvement David DeAngelis.
Many clubs at Suffolk University plan events throughout the week, whether they are co-sponsoring an event or bringing in some of their own.  The Program Council for example, will be co-sponsoring a few different events. On Monday, Feb. 24, Guest Speaker Neil Hilborn spoke at the C. Walsh Theatre as a unity week event. Last year, Hilborn had a spoken-word video called "OCD" that went viral on Upworthy.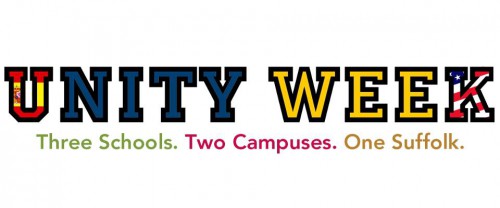 Both the Program Council and SGA hosted a commuter social on Tuesday, Feb. 25.  The commuter social is part of a series of events planned by SGA that are designed to connect commuter students with campus events. Program Council will also be sponsoring Autism Awareness: A Night with Seth Glier. Glier is a singer-songwriter who is also a spokesperson for Autism Speaks. On Thursday, Feb. 27, he will be speaking on his personal connection to autism and how students and faculty can help to promote awareness for it.
"When we create different events for unity week, we want to really connect with a large group of students on campus, so we try to pick events that are going to reflect our student population as well as our general audience," said On-Campus Entertainment Chair and Unity Week Committee Member Erica LeBlanc. "Basically, we want it to reflect values at Suffolk, so we put on events that we think would best do that."
Planning for unity week usually starts the November before, with DeAngelis scouting different representation across several levels and offices to be a part of the Unity Week committee.
It is no surprise then that from this committee comes a variety of  events.
On Thursday, Feb. 27, there will be a Hillel Purim Carnival to celebrate the Jewish holiday of Purim, and on that same night later in the evening, Suffolk will be holding Roman Catholic Mass in the Interfaith Center.

Reverend Amy Fisher said, "As the university chaplain, I believe that a piece of unity comes from understanding other cultures and other religions, which is why the Interfaith Center is sponsoring seven events during unity week."
While there are events at Suffolk advertised to only a select subpopulation of Suffolk, whether it is the Sawyer Business School, the College of Arts and Sciences or NESAD students, it is clear that this isn't one of them. "This year we're actually doing a commUNITY meal that invites students from NESAD, SBS and CAS, undergraduate, graduate and law school as well as faculty and staff. It's an opportunity to engage in dialogue and join in a meal and talk with people that are in different stages of their educational career," said DeAngelis. This community luncheon will be held at noon in the Suffolk Law School Function Room.
For those interested in finding out more about the unique selection of speakers and programs that will be present at Suffolk during Unity Week, visit MySuffolk or Suffolk's Unity Week Facebook page. For those that cannot attend specific events, there are other ways to contribute and be a part of unity week. Students can talk with professors about devoting a class or part of one to talk about the themes behind unity week which could prove to be in the spirit of "commUNITY."