The 16th annual Sawyer Business School honors program networking night was different from the usual meet and greet events that students can become accustomed to. Students, alumni, and faculty mingled in the Suffolk Law School function room Feb. 19, with special appearances by President James McCarthy and Dean William O'Neill of SBS.
This event took a more formal approach to networking compared to more casual events like the Temple Street fair.
"Over the course of four years, honor students have the opportunity to develop networking skills which include approaching people," said Kim Larkin, director of the SBS honors program.
McCarthy congratulated and welcomed both alumni and current students. He mentioned that the event was a good old-fashioned face-to-face networking event to help students form new ties in the business world. McCarthy also expressed his pride in the Griffin fellows and honor students for setting a path for themselves, embracing projects, showcasing their hard work and developing their skills while at Suffolk.
McCarthy praised the way alumni are able to give back to Suffolk University: advising students, teaching classes, giving lectures, and possibly giving financial support to the university.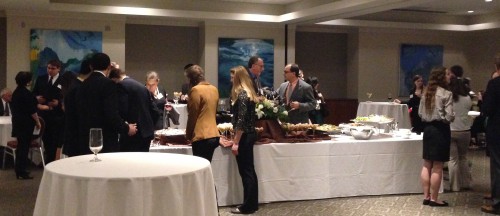 "Each of these is equally valuable, everybody can give back in some way," he said. "Not everyone can give back with a check but everyone can give back in some way."
Students had a chance to both network and chat with each other and although some students had difficulty telling who were current students and who were alumni, they still had a positive outlook on the event.
"I got to talk to alumni, ask them what was going on when they were our age, and a good way to learn about their careers and more," said Eneda Golemi, a sophomore economics major.
The event also featured a visit from George Donnelly, executive editor of the Boston Business Journal and also an instructor of the course called Boston Economy, who presented "The Good, The Bad, and the Different: How the Boston Economy Will Change in the Next 10 Years."
In his brief lecture, he was not stingy when it came to praising Boston for its many achievements in its economy. However, he believes Boston is taking its many economic blessings for granted.
One of the things Donnelly believed the city took for granted is its student population.
"If Boston is to grow, it has to capture the loyalty and imagination of students," Donnelly said.
Dean O'Neill addressed the audience, showing appreciation to the alumni for spending time with students and building a connection where they understand they can mutually help each other.
"It is a terrific networking event for students and alumni so they can all connect and find out what's going on at Suffolk and in their careers," O'Neill said.
Grace Rodriguez, a sophomore accounting and finance major, enjoyed the networking event and was thankful for the opportunity to create a link to the real world.
"I think it's a great way to get out of the school frame," Rodriguez said.
Larkin said the SBS honors program is thankful to have Dean O'Neill and President McCarthy to support the program, especially for events like this.
"They're engagement, not only validates the mission of the honors program but also serves to validate the importance of these students in the university," she said.