Suffolk supports Haiti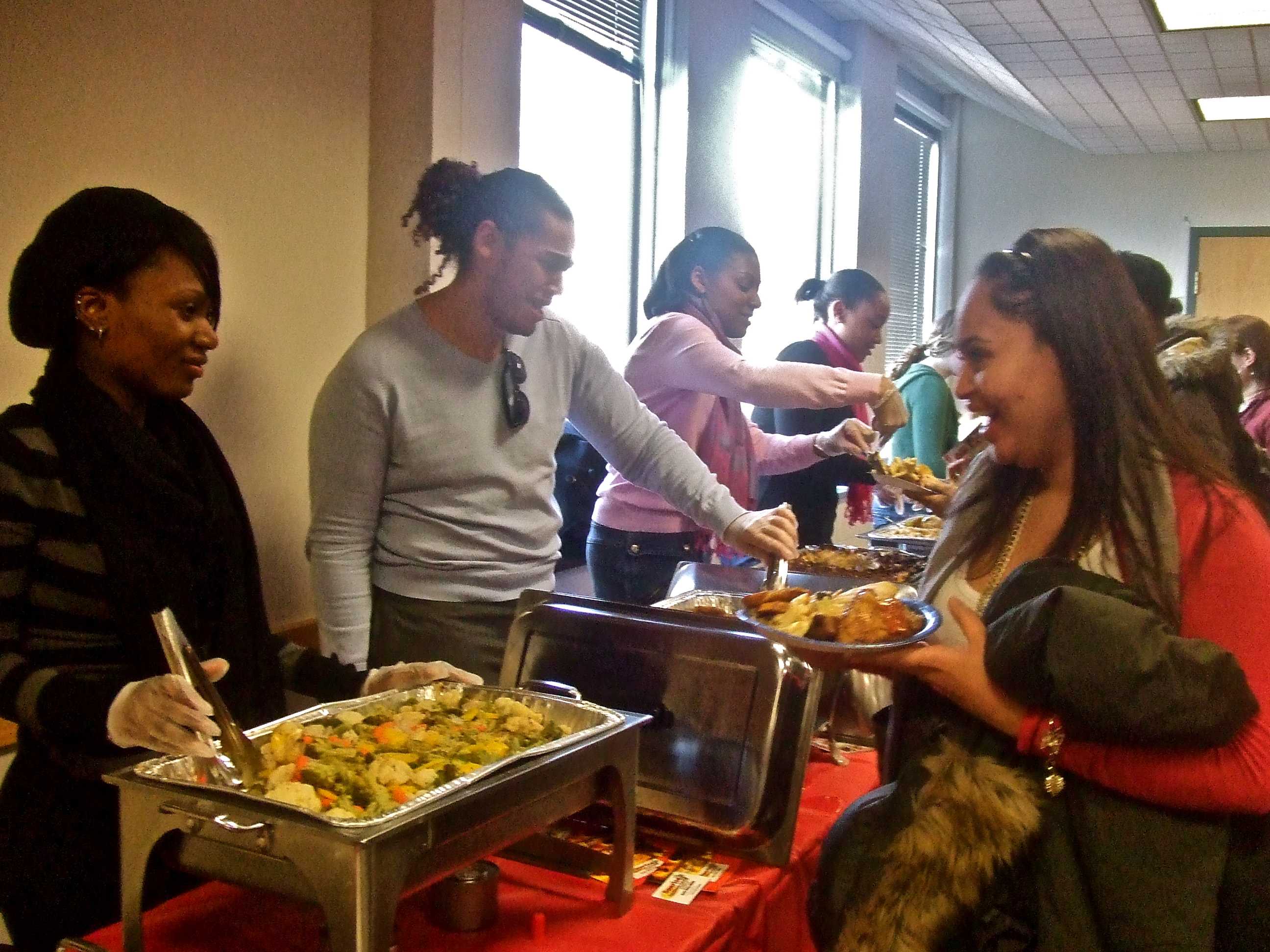 Article by: Angela Bray
Students come together to celebrate Haitian culture and raise money
The Suffolk community came together last Thursday in support of the people of Haiti, which suffered a devastating 7.0 magnitude earthquake last month. The event, A Taste of Haiti, was co-sponsored by the Black Student Union, College Democrats, Mock Trial Team, Student Political Science Association, Mirembe on My Mind, Caribbean Student Network, and the Suffolk University Hispanic Association.
Students, faculty, and staff gathered on the fourth floor of Donahue and paid two dollars a plate to eat Haitian food, and listen to traditional Haitian music. The event was promoted through e-mail, flyers, the Suffolk University website, Facebook, and Twitter.
Several students who stood in line had never experienced Haitian food before. "I love trying new foods," said Sophomore Kaela Gallo. "I think this is great, it's a good way to raise money and get people together to talk about what happened." Those who were unfamiliar with the details of the tragedy in Haiti were informed about it by speakers and their peers. "I think it is very helpful for anyone who came," said Emily Simnam, a junior. "Plus, students love food!"
"It's good for Suffolk students to experience [other] cultures like this. I'm glad it's getting a lot of attention, and there are a lot of students here," said Jocelyn Ferraro, 2012.
"The idea originated from the College Democrats, who then proposed the idea to the Black Student Union and many other groups," said Jessica Ross, President of the Black Student Union. "Each group sent a student representative to each planning meeting and each group's Executive Board members volunteered the day of the event."
Tabitha Cherilus, Vice President of the Black Student Union, was one of the first to speak to the room. Cherilus is Haitian, and mentioned her family's suffering. "On behalf of all clubs, I'd like to thank you all for coming and for your support."
Several Haitian students attended the event and shared their stories of the earthquake. "My family is in Port-au-Prince; their houses were affected, but they're okay now. My uncle's wife was pregnant and had a C-section; it's the worst time to have a baby," said freshman Tanya Jules. Juliette Laguerre, also a freshman, has family in Port-au-Prince as well. "One of my cousins was trapped for two hours, but he and my family are okay now," she said. "I am so happy [A Taste of Haiti] is going on."
For a donation of two dollars, attendees could fill their plates with a variety of Haitian food catered from Sunrise Caribbean Cuisine (Somerville, Mass), a Haitian-American family-owned restaurant. Dishes included steamed vegetables, plantains, baked macaroni and cheese, green peas, rice, curried chicken, conch with pickled sauce, fried pork, chicken, red beans, and chicken and beef patties. The baked macaroni and cheese, chicken patties, and rice with peas were among the favorite selections of students.
"We wanted to make a difference, and this is definitely working," said Kris Callahan, Vice President of the Suffolk Democrats. "It looks like people are donating more than just two dollars for a plate."
"It's also that organizations can be donated to through the computers that are set up," said sophomore Daniel  Mann, Treasurer of the Suffolk Democrats. All the proceeds were equally divided between five organizations that were all active in Haiti before the earthquake: Food for the Poor/Hope for Haiti, JANBE: Bridges to Haiti, Partners in Health, St. Boniface Haiti Foundation, and the Haitian Soccer Federation.
Chris Saunders, a Suffolk graduate student, heard about the event by word-of-mouth and e-mails. "This is a great thing Suffolk University is doing to spread awareness about Haiti," he said. "I am very proud Suffolk felt they had an obligation to answer the call to do something about it."
The room buzzed with the upbeat music and positive energy. Attendees were enjoying the event as they spoke with friends and members of the sponsoring groups. Francia Cordia, a graduate student in Suffolk's Government Department, was staying in Haiti at her father's house in Delmas during the earthquake. "It's an experience I would not want anyone to have," she said. "I was stuck, I couldn't move. Seeing people dying around me, I didn't know what to do. The next day when I was about to get my sister with her kids, there were dead people on the streets everywhere."
Cordia spoke about the children in Haiti, and wondered how the country will cope with all of them. She mentioned a mother who lost six of her seven children. "As a Haitian person, I'm not happy with the way things are. We don't know what can happen." Cordia did not want to leave her father, and she changed her flight back to the U.S. a number of times. "Seeing the state the country is in, I don't want to sit here in America and not be with the people back home." She stressed that she refuses to remain silent about it.
Both cash and online donations were accepted. Ribbons and raffle tickets were also sold. A grand total of $668 was raised in cash, exceeding the original $500 goal.
"I am very proud of the co-sponsoring organizations for coming together and creating such a successful event," said Ross. "I am also thankful and pleased with the amount of students, faculty, and staff who attended the event and donated to Haiti."
Leave a Comment