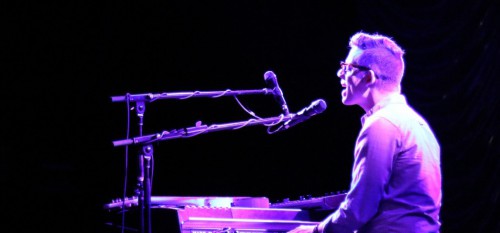 There are shows you attend every once in a while, those that truly stick in your memory for many years to come. When invited to Jarle Bernhoft by a few friends of mine that attend, I knew I was in for a rare treat as we ventured out into the cold school night of Nov. 25.
Guests entered the newly built Sinclair located in Harvard Square, Cambridge – they were welcomed by the eclectic sound of the opening act, Miracles of Modern Science, as we walk past admiring their almost empty merchandise table in the lobby.
The floppy-haired male comprised band strummed away on their strings as they encouraged audience members to dance along with their friendly, fun tunes. Members of the band included snippets of stories between their assorted set of tunes as they strung away on various instruments including a violin and a cello.
"Call us M.O.M.S. for short and this song is called bombs away," said lead vocal Evan Younger, as the band announced their last song of the evening.
As chatter among the audience starts to increase, fans alike began to talk amongst one another about other experiences where they have seen Jarle Bernhoft play. For every Bernhoft fan, there was a friend or two that was invited to the rare show.
"Paul McCartney, Natives, Pretty Lights, Mumford and Sons, Sheepdogs, Macklemore," said Robbie Wolfson, a student of Berklee College of Music, as he described some of the best shows that he has seen, "but Bernhoft has by far been the best, all three times."
Currently touring the United States, Bernhoft originates from Norway as word of his unique act is quickly gaining attention across the globe via word of mouth. As Bernhoft's stage manager begins to set up Bernhoft's various instruments, excitement fills the room as fans start to draw closer to the stage looking forward to the curtain call.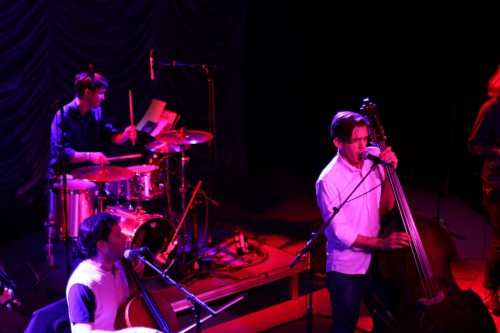 The Sinclair is settling in as a venue similar to the House of Blues, but only smaller and much more intimate, only adding to the excitement fulfilling the small room. As the Bernhoft appears on the stage, audience members began to cheer and clap as the artist takes a bow – it is apparent nothing but sheer happiness is the feeling set in stone for the solo act.
"Saw him at this little small place Joe's Pub in Manhattan, and he literally got everyone to stand up in such an intimate place," said Berklee College of Music student John Becker. "He is really amazing."
As Bernhoft takes his seat upon the stage, he strums away at his guitar as he announced, "a song so old it's antique, like video shop games," but honestly admitted it was his first time sharing the song on his U.S. tour. Bernhoft starts to hum along as he tunes all of his instruments to be included in the next song. Bernhoft smiles as the crowd sings along to songs like "Space in My Heart" and "Control."
When the time comes for the artist to play his most popular song, "C'mon Talk," which, includes about four different recordings Bernhoft composed to make a single song – all in front of audience members. As crowd members sing along they lose track, causing Bernhoft to laugh funly as he continues to sing the song seemingly enjoying the company of his fans.
"I came to Boston yesterday and made some new friends, met new method of tequila and the lime in the shaken head, it's a very nice place here, so do it in a crappy place, not here" jokes Bernhoft. As he heads into the last section of his set the artist shares a story of his experience in Boston the day prior. "I'm a country boy. I'm just from outside Oslo," Bernhoft told stories often throughout the show and makes plenty of jokes sending the audience floating home on cloud nine with a warm-hearted feeling as he presented one of his final songs "Stay With Me" live on piano.
Overall, having the opportunity to see international artists in the small little venues Boston has to offer makes the experience all worth it in the end.  Bernhoft seemed to be just as excited to be in Boston as the city dwellers of Boston were more than happy to bear the cold winter air to see him play live for the first time in their Hub.