Shovels enter dirt of 20 Somerset, promising education to emerge
Suffolk University, through combined efforts and input from neighbors and city officials, was able to hold the groundbreaking ceremony for a new academic building at 20 Somerset St. last Thursday with an appearance from outgoing Mayor Thomas M. Menino.
The new building will devote four of its 10 floors to science education. Electronic whiteboards and active learning pods will enable students to work in teams and project their collaborative efforts onto screens around the classrooms.
"I may be the only person who loves the sound of a jackhammer," said Suffolk University President James McCarthy at the groundbreaking ceremony, in regards to the tearing down of the former Metropolitan District Commission headquarters. With his relatively new presidency comes many changes. Suffolk is constantly being revised and amended.
The "20 Somerset academic building will provide Suffolk students with a whole new learning environment designed to connect them more closely with faculty and peers for a collaborative and interactive approach to scholarship," McCarthy said during the ceremony. "The building will also enhance our teaching of the sciences. In a state that leads the world in life sciences industries, Suffolk is focused on providing a science curriculum that prepares graduates to step into important jobs in those fields."
Science, Technology, Engineering and Mathematics, or STEM, based education has been a budding topic, and maybe even a trend, amongst many schools across America. Advocates call it an interactive, engaging curriculum that compels students to pursue careers in these four areas is made possible by a progressive education system. This system combines openness to the future of education with a willingness to make the accommodations necessary for this kind of learning.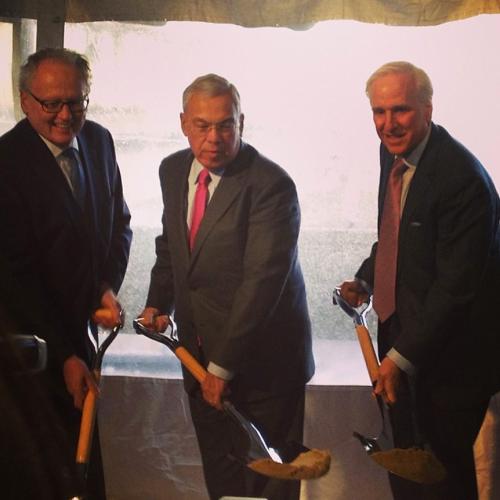 Twenty Somerset, designed by member of the U.S. Commission of Fine Arts and Principal of NBBJ Architects Alex Krieger, is an innovative glass-walled building that will ideally be the focal point of Suffolk's campus. While the building is representative of the university's new focus on the sciences, McCarthy explains that Suffolk will be consolidating other classrooms on campus into 20 Somerset, making the building inclusive.
"Students will enjoy ease of access to internship and service-learning possibilities due to the building's proximity to Boston's centers of government, business and health care," said McCarthy.
In his thank you address, Vice President of Government and Community Affairs at Suffolk University John Nucci referred to the project as a "community effort." The new quad, which will assuredly not be made of grass, (McCarthy boasts that he will remain one of the few university presidents that presides over an institution that doesn't own a lawnmower) will be a new place to congregate for many, including passersby and employees of nearby offices. Suffolk students and faculty can be on the lookout for a concrete quad, a place where people will "see and be seen," said McCarthy. 
Nucci also describes this new development as favorable for an urban school.
"Suffolk University prepares students to join the workforce," he said. "Having a university in the middle of the city can be difficult and you have to work hard to strike a positive balance."
Special guest Mayor Menino, who showed up with his Louisville Slugger Cane, spoke briefly and made sure to thank everyone involved. He proceeded to talk about his involvement with Suffolk and other Boston-area schools. Menino emphasized that overseeing new developments in Boston-area schools is important to him, not only because it affects the populations of these schools, but because it affects the community around it.
As an aside, Menino also praised Mayor-elect Martin J. Walsh.
"I have confidence that our new mayor, Marty Walsh, will bring our society together," he said.
Students are seemingly looking forward to 20 Somerset. Sophomore and electrical engineering major Diego Mendoza, expressed his thoughts on the new building.
"I think the new 20 Somerset building is a big step in the right direction, particularly for the science departments," he said. "It shows how Suffolk is focused on providing its students with the resources necessary to better themselves, both educationally and socially. I feel that this building will inspire our student body overall because we can see how the university continues to grow and improve."
Current freshman and sophomores as well as faculty at Suffolk can expect to see 20 Somerset in all of its glass-laden splendor in fall 2015.
Leave a Comment