Comfort dogs bring smiles to Suffolk, help calm stressed students
Suffolk students received a special treat last week when furry, four-legged friends came to campus to help relieve stress.
The Lutheran Church Charities' K-9 Comfort Dog Team visited Suffolk University on Oct. 17 to explain how they train dogs to therapeutically assist victims and survivors of disasters like the Boston Marathon bombing.
The LCC's K-9 Comfort Dog Team is co-directed by husband and wife Rich and Dona Martin, who were invited to speak at Suffolk by communication and journalism professor Norine Bacigalupo. The Martins brought six dogs from their Danbury, Conn. branch, named Maggie, Hanna, Addie, Zoey, Ruthy, and Luther.
Suffolk University president James McCarthy presented each dog with an Honorary Doctorate of Healing to recognize its service.
The organization has 70 trained dogs in 10 states. Training each dog takes about a year. Unlike service dogs, therapeutic dogs do not specifically assist disabled people, but instead comfort victims regardless of ability.
The LCC only uses golden retrievers in its programs because the breed is overall very calm and reacts well with all types of people.
"The dogs are trained to lie on their sides in the sleeping position. This makes them very approachable to kids who want to sit with them and pet them," Rich Martin said. This simple technique can help not only comfort young children, but also relieve them of their stress.
When they visited Newtown after the shooting at Sandy Hook, "a mother brought her young son who had been at the elementary school during the shooting. As soon as he laid down with one of the dogs he started talking to her and telling her what he was thinking. His mom broke down and said it was the first time he'd spoke since the shooting."
Dona said that children, especially those who have been through a crisis, connect to the dogs.
The dogs travel around the country to comfort victims and survivors of natural disasters and violence. When they are not on the road, the teams also regularly visit hospitals and nursing homes.
"We only respond to crises that we are invited too," said Dona Martin. "But since we've expanded to 10 states, our teams can respond to more events than when we started in Addison [Illinois.]"
The First Lutheran Church of Boston invited the Danbury team after the marathon attacks.
In addition to Newtown and Boston, teams visited Prescott, Ariz. after the town lost 19 firefighters to a wildfire, and West, Texas after an industrial explosion killed 15 residents. They also visited towns in Oklahoma and Joplin, Miss. after tornados destroyed several communities.
The dogs are generously rewarded for their service; their trainers brush their teeth and massage them daily and play ball with them to "just let them be dogs for a while," as Rich said. "It can be stressful for them to sit all day with so many people petting them, that sometimes they just have to get up and go for a walk in between helping people."
Massages and dental hygiene may seem like small tokens of gratitude for the dogs' hard work, but it keeps them going nonetheless, as anyone who was lucky enough to see them Thursday can attest.
For more information on the dogs, students can visit k9comfort.org. The official Facebook fan page is LCC K-9 Comfort Dogs.
Leave a Comment
About the Contributor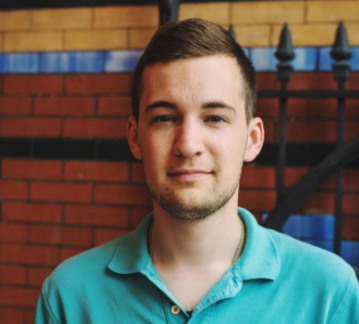 Sam Humphrey, Newsroom Manager
From starting as a staff writer to helping edit and manage the entire paper, Sam has seen every side of the Journal there is. He covered protests, changes in the school's administration, and local political events on Suffolk's campus and across the city. He graduated from the Sawyer Business School in May 2017 but his favorite memories of Suffolk are from his four years on the paper.