Even though senior day did not end well for the Lady Rams as they conceded a 7-2 loss to Tufts University, there is reason to believe in great results in the near future. Suffolk is currently number six in the conference and has to maintain a top eight position in order to make the playoffs. With only two games left not much can go wrong for Suffolk as one of the games is against Mount Ida which the Lady Rams previously beat this season. The Suffolk team is looking very strong this season and the Lady Rams feel ready to go all the way in the GNAC Championship.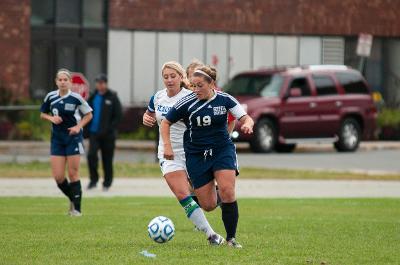 Senior Taylor Miranda had a great day scoring a goal and is looking to finish her four year career with a blast. Right now Miranda ranks third among all GNAC players with nine goals. Recently the senior forward was named ECAC and GNAC player of the week for her outstanding performances. With five fabulous goals in one  incredible week Miranda deserved the recognition and with that she established herself as one of the most dangerous forwards in the GNAC Championship. If there is a key to do well in the playoffs and score some goals, that key is Miranda. If the forward has a great day, Suffolk usually has a great day as well. If Miranda can continue to perform at the level that reminds of D II or even D I, as she did in the Norwich game being involved in all five of her team's goals, then Suffolk's future in the playoffs are looking very bright. Essentially Miranda is a very well rounded player and a great teammate who can both score goals and make assists. A player like Miranda is essential to the success of any team.
Next match for the Lady Rams is Oct. 22 against a very strong St. Joseph of Maine, who will be a huge challenge, but a great test as well. If Suffolk does well in this game and is able to keep up with the savvy Saints, the girls will have a great outlook for the playoff games. Statistically Suffolk's women's soccer team has been doing very well in recent years, qualifying for the GNAC playoffs four years in a row. Unfortunately the team has not yet won a GNAC Championship, though the team has made an ECAC appearance, which is the regional tournament for the best DIII teams in New England. The regular season ends on Saturday Oct. 26 against Mount Ida College. The next step is the playoffs quarterfinals. This is when the each game gets extremely crucial and the fight for the win is more intense than ever. This is without doubt the most exiting and nerve-wrecking part of the season.