HBGC holds conference to empower LGBTQ youth of color
The spotlight was shining on Boston's LGBTQ youth of color community this weekend during a free conference that featured over 20 workshops filled with personal stories and tips for success.
The Hispanic Black Gay Coalition hosted the event at Harvard University Saturday, where over 150 registrants gathered to participate in the workshops facilitated by young professionals.
Workshops covered topics such as "health and wellness, identity/intersectionality, arts, life skills, and movement building", as described in the HBGC website.
Pierre Berastain, a graduate student at Harvard Divinity School and Communications/Marketing Coordinator for the National Latino/a Network, facilitated a morning workshop that focused on public speaking and techniques for interviewing before a camera.
"Your presentation begins as soon as you leave your chair," Berastain explained. "Imagine you are flirting with the entire audience. You want to take them all home with you."
Berastain used interviews from public figures broadcasted on national networks, such as Bill Clinton on Fox News, to break down practices to use when being faced with difficult questions, a useful tool for LGBTQ youth. He emphasized to replace angry outbursts with bigger smiles, and to master the ability to shift questions to avoid answering on sensitive topics.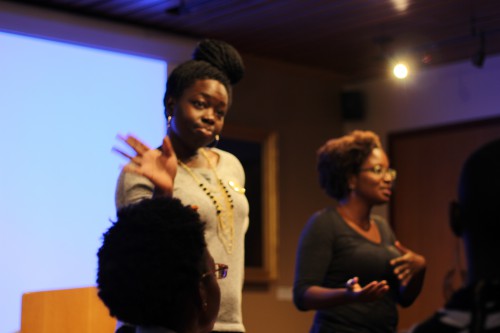 Another workshop was held by Mark Travis Rivera, the director of a dance company for disabled and non-disabled dancers, who also serves as the Chairman for an organization that provides support for gay/bisexual men of color in New Jersey. Rivera shared his story of struggling through the physical disabilities of being born premature along with the weight of being a man of color. Although he used braces to help him walk as a child, Rivera pushed through that limit and is now a professional dancer.
Rivera expressed that many often confuse a desire to be "under the spotlight" implies selfishness or an egocentric attitude, but that for the LGBTQ youth, the meaning is different. To hold the spotlight is to not be afraid of what that brightness will reveal to everyone watching you, to have fully embraced yourself and what you are regardless of where you come from.
"Your zip code does not determine your life code," he said.
Regarding health and wellness, an afternoon workshop called "The Birds and the Bees: Uncensored" was held. And, they were not playing around when they said "uncensored." Representatives from Boston ABCD hosted the conversation, where they demonstrated the many, many, many tools available to practice safer sex, as well as how to properly use them. They also answered any questions audience members had.
"Our goal is to move sex into a positive light to get it to become more normal. Sex can be fun, but it can also be dangerous," said Lola Akintobi, when introducing the presentation. Free contraceptives were offered at the end of the workshop.
The conference was brought to an end after special guest speaker Mia McKenzie shared poems as well as personal experiences to bring encouragement to the audience facing similar problems. McKenzie, an author and speaker, described herself as "a smart, scrappy Philadelphian… a black feminist and a freaking queer, facts that are often reflected in her writings, which have won her some awards."  Her speech was as entertaining and amusing as that personal description.
The conference was sponsored by BAGLY, the Boston Alliance of Gay, Lesbian, and Transgender Youth, and Parents, Families and Friends of Lesbians and Gays (PFLAG.) For more information regarding HBGC or upcoming events, follow the trend #2013YEC or visit www.HBGC-Boston.org.
Leave a Comment