The Humane League visits SU Vegetarian Society, stresses importance of activism
How can you be a better vegetarian or vegan? According to David Coman-Hidy, the answer lies in activism.
On Thursday, David Coman-Hidy, director of The Humane League, gave a presentation on animal rights activism for the Suffolk University Vegetarian Society. The Humane League is an organization dedicated to protecting all animals through public education, campaign, and rescue. Its mission is to save as many lives of animals as possible and reduce the amount of animal cruelty everywhere.
The presentation was full of tips on how to become a better animal rights activist by getting involved around campus and influencing others to move up the "veg scale" which goes as follows: occasional veg meals, meatless on Monday, meat reducer, vegetarian, vegan, vegan activist, and lastly, organic vegan activist.
In a nutshell, there are at least three things that everyone who cares about being a better, or more pro-animal rights, vegetarian or vegan should operate on: activism, having a bottom line at all times, along with the psychology of activism.
The Humane League has succeeded in preventing over 60 institutions, including Suffolk University, from purchasing eggs that use battery cages. The cages are confinement systems used for egg-laying hens that are incredibly uncomfortable and painful for them. Hens frequently lose their feathers and gain sores in such cages.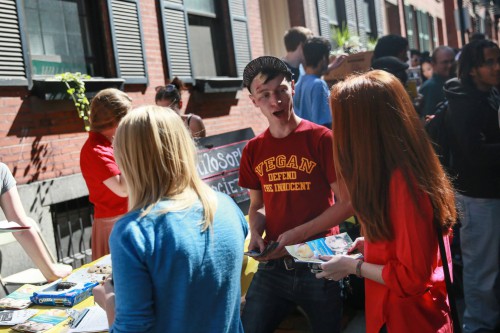 This is an example of a pro-animal rights campaign on a larger scale, but students can start their own mini-campaign. Influencing just one person to stop their meat consumption has a direct impact on 30 land animals (28 being chickens), and 225 marine animals per year. Leafleting is also another form of activism. The Humane League distributes thousands of leaflets per day – a non-intrusive way to spread free information.
The second tip an animal rights activist should remmeber is to always have a bottom line. The bottom line is wanting to help animals. So, if you have to change your appearance a bit in order to impress the group of people that you're speaking to, do so.
"If it seems sneaky, it's because it can be, but the bottom line is, animals don't care if you're sneaky," Coman-Hidy said. He also explained that, for most people who only know one or two vegetarians, it is important to be self-aware. There is a way to get your ideas across and explain your reasoning behind being a vegetarian without seeming pompous.
"People tend to get offended if you take a moral stance on anything," said Coman-Hidy, who tends to keep his explanation simple. All in all, impressions are important, and if they're for the overall betterment of the conditions that animals live in, then good impressions are necessary, he believes.
The third suggestion Coman-Hidy gives for activists is to focus on the psychology of activism. Studies have shown that some methods of activism work better than others. For example, telling stories about individual animals versus spewing out statistics is more impactful as far as educating and moving people into activism or eating a meatless diet. Other mantras to remember are, "everyone's doing it" (people like to feel like they're part of a movement), and "a great way to start is to get your foot in the door" (hence, vegetarian society plans for meatless Mondays).
The presentation was well received, and club members discussed their thoughts and asked questions regarding how to get more involved in activism and vegetarian or vegan dietary needs afterwards.
President of the society, James Helenski, said he's working on plenty of events for the upcoming months, including  a "Veg-Pledge" over Thanksgiving, Meatless Mondays in Suffolk dining halls, and other events in November, which is National Vegan Month.
The society will also be at the 18th Annual Boston Vegetarian Food Festival on Oct. 26 and 27. The club is inclusive, so students who aren't full vegan or vegetarian can still join. As David Coman-Hidy candidly said, "There is no harm in making someone who reduces meat consumption by, say, 50 percent, feel like they're a part of this movement."
Leave a Comment