"Away for the Summer" exhibit showcases students' work from Italy and Spain
Fresh Italian herbs placed around the main gallery at the New England School of Art and Design  last Thursday night for the opening of the "Away for the Summer" exhibition filled the room with the aromas of Europe. Watercolor paintings of the Italian countryside and photographs of Spanish cities transported spectators from the space at 75 Arlington St. to the beauty of Tuscany's gardens and the bustle of Madrid's streets.
Graphic design professor Wallace Marosek led his 10th summer course to Italy this year while photography professor Ken Martin led a photography course to Spain for the first time.
"I've never traveled before," said senior graphic design major Victoria Burnett, who took The Italian Journal course, "It was so exciting not to paint in a stuffed-up classroom."
Marosek's watercolor class, combined with professor Grace Consoli's art history course, both based in Florence for about six weeks, gave students the chance to live and learn while immersed in Italian life and history.
"Students see images [of Renaissance art] in their books in the morning, and then they get to see them on-site in the afternoon," Marosek said.
"I loved studying Renaissance art in class, so it was great to be able to see it in person," Burnett said.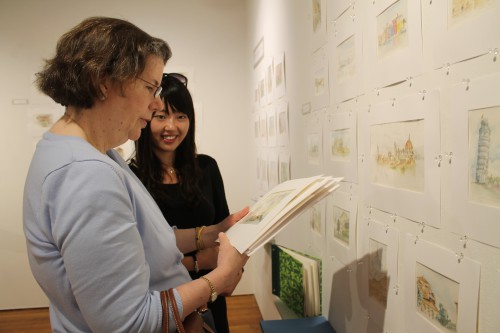 Marosek has been visiting Europe over summers to paint "since diapers" and has connections with royal families and the author of "Under the Tuscan Sun" which allows him bring students to exclusive places.
"I wanted students to have access like I had," Marosek said, "I'm always determined to give them the most incredible, 'wow' experience."
Students spent most of the time in Florence, but also enjoyed a few days in Rome, a week in Venice, and some day trips to Pisa, Fiesole, and Murano.
Musial especially enjoyed the travel aspect of the illustration and graphic design course. "Every opportunity I get, I want to go somewhere," she said, "Venice was my favorite – it's not like any city you've ever been to."
Ken Martin has led several photography classes to Italy in the past but started a new course this year bringing students to Suffolk's Madrid campus for a month. Covering everything from bullfights to iconic landscapes to historical scenes, the Lens on Spain class worked hard to surround themselves with authentic Spanish culture.
"Spain is much different than Italy," Martin said. While he has many contacts in Italy to help facilitate his Suffolk trips there, he had to "make new friendships" in Spain. "I can't say enough about the Suffolk Madrid faculty and staff – they were just great."
Lens on Spain traveled to several locations in the country. Based in Madrid, the class also brought students to Cordoba, Granada, Barcelona, and Toledo to name a few places.
"It's so easy to only see the tourist sites, it's much harder to get into the Spanish history," Martin said, "But we did it. We were able to photograph places of the civil war [in the 1930s] all these years later."
Martin said he plans to alternate between offering summer courses abroad in Italy and Spain after this year's trip to Madrid was such a success. There will also be another exhibit of the Lens on Spain photographs in the Ridgeway building on Cambridge Street soon.
After a summer full of hard work and new experiences, students and professors alike were glad to have an outlet to share their pieces and stories with the Suffolk community.
"It's a great way to step back and see the work and reflect on it," Musial said.
Exhibiting their work "gives students confidence," Marosek said, "It's especially important for artists because we're naturally filled with so much self-doubt."
The "Away for the Summer" show will be open to the public at the NESAD gallery until Oct. 7. The gallery is open from 9 a.m. to 8 p.m. Monday through Friday and from noon to 5 p.m. on Saturdays and Sundays.
Leave a Comment