DiDio, DC bring star power to 2013 Boston Comic Con
The 2013 Boston Comic Con was originally scheduled to take place in April at Hynes Convention Center. DC Comics co-publisher Dan DiDio was not initially among members of the company set to take the trip to the Hub. Both of those plans changed after the Boston Marathon bombings.
Boston Comic Con organizers rallied to reschedule the annual convention and held the event this past weekend at the Seaport World Trade Center. Among hundreds of artists and other names in the comic book world, DiDio made sure he was in attendance.
"I wasn't a part of the original plans for the convention but when the convention was cancelled after the events following the Boston Marathon, you felt you wanted to contribute and we wanted to draw attention to the show," said DiDio.
Along with its co-publisher, DC sent current Batman writer and 2012 Stan Lee Man of the Year award winner Scott Snyder, Wonder Woman writer Brian Azzarello, Superman/Wonder Woman artist Tony Daniel, and Justice League International penciller Aaron Lopresti.
Not even two weeks removed from the biggest comic convention of the year in San Diego, DiDio and company signed autographs and chatted with their fan base. All of DC's talent on hand also took part in a panel for fans and media alike. Boston Comic Con organizers expected 15,000 fans to flock to this year's show.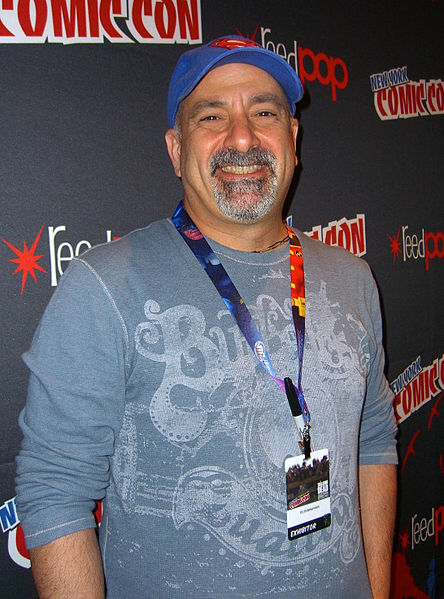 "We knew we had a lot of fans here that were excited about what's going on. Given the turn of events and what happened, we wanted to give everybody something to be part of and to cheer and to celebrate," said DiDio.
For DiDio himself, he felt it was especially important to him to make the unscheduled trip to the convention.
"For me, this is a wonderful celebration. Not only is it a great turnout for a show but it's a true comic book show. To see this many people here embracing what we do and celebrating it this much, it makes you feel good."
The DC Comics representatives did not spend all weekend by the seaport however. DiDio, Snyder and company were able to make it down to Yawkey Way to see the Red Sox 7-6 loss against Arizona last Friday night.
"That was absolutely wonderful. You know, Fenway [is] possibly the best park in baseball. I've been to a lot of games in a lot of different cities as I travel but going to Fenway…I've never seen a more dedicated fan base in the stands and the fact everyone is watching the game instead of wandering around to the food court. I wanted to kiss them all," DiDio chuckled.
While the DC co-publisher enjoyed his previously unscheduled trip to Fenway and Boston Comic Con, there's no doubt him and other artists left fans with something to cheer for and celebrate.