Kelly Rowland sets off on Lights Out Tour with new single 'Dirty Laundry'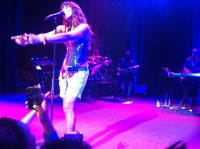 Wednesday, May 29 Boston welcomed the famed Kelly Rowland to the Wilbur Theater on Tremont Street just steps away from campus. Setting off on her 'Lights Out' Tour, performing and life on the road is nothing new to this talented singer. As a former member of Destiny's Child, Rowland has embarked on a musical journey of her own and fondly proves with her live set that she is nowhere near putting the fire out any time soon.
As soon as the opening act, The Dream, enters from the side curtains onto the stage and starts to sing his melody into his gold microphone, the entire audience sways along with the sound of the music and singing along like a fun massive version of karaoke amongst the crowd. Georgia bred, The Dream stayed true to his signature attire of 'all black everything' sporting a black button up with his name, along with other lettering stitched in red lettering on the back.
After a few songs The Dream slips off his jacket and lets the crowd sing along with the chorus while he takes a breather, seeming to be enjoying his time on the stage. As the purple and red lighting settles in to make for special atmospherics, The Dream hits a soft spot sharing with the audience, "Boston strong. No matter what they did or what they say, we are the greatest nation there is."
Seemingly harmonizing effortlessly throughout the course of the show, The Dream performed fan favorites including "I Luv Your Girl" and "Falsetto" as audience members of all altos hit every note along with the R&B artist. As he ends the set with, "Boston, I love you," the curtains fall and the excitement in the atmosphere rises as the audience anxiously awaits Kelly Rowland.
As security settles in slightly between the front audience members and the stage, it was revealed that it was one of Rowland's first engagements playing in such an intimate venue and was a tad nervous. After speculation, the excitement in the vintage-looking venue rose as members of the audience chattered about how much more they respected the superstar and her commitment to her fans in attendance.
As the shining artist appeared on the stage, it was very apparent that every member in attendance on this rainy evening had made their way to the Wilbur Theatre to show their support for Kelly Rowland. Equally as energized as the audience, Rowland was sporting oversized boyfriend shorts with a black bedazzled leotard, black leather vest and black biker boots sharing a unique but very real stage appearance. Dancing around to her melodies, with many smiles and waves to the crowd,Rowland was heartwarming,  setting a friendly and fun vibe throughout her entire performance.
Rowland's 'Lights Out' Tour is in celebration of Rowland's new album featuring popular tracks "Dirty Laundry" and "Kisses Down Low," but also sharing a few other favorites including "Like This" and "Motivation". Rowland even sampled a few of the more popular Destiny's Child tracks, which made for a great time swaying along to all of the throwback tracks from the Y2K including "Survivor" and "Soilder". As the red lights reflected off of Rowland's long curly black hair, she took a seat to perform her controversial track saying it "can be taken out of context," but shared that it was truly just her experience in song.
While performing the catchy track, Rowland hit an emotional strain singing with tears in her eyes as members of the audience sang along and showed their support by chanting lovely complements to the heartfelt artist. After regrouping, Rowland sang her heart out in this particular song that made the entire show and sincerely proved that Rowland absolutely carries that sweet heartfelt sound that we all know and love. Rowland plays a few more fun melodies before closing her show by waving to the audience and coming to the corners of the stage to blow kisses to members in the mezzanine.
Rowland drew an eclectic crowd of all types, girls and guys of all ages and interests made for a uniquely fun experience. Rowland's new album Talk a Good Game will be released June 18 and is highly anticipated due to her most recently released singles. Kelly Rowland is hitting a new avenue, she clearly is not afraid to show the world that she still has the seductive sweet sound that we have always loved. 
Leave a Comment