Men's Tennis Looking to Rebound into Postseason Down the Final Stretch
The Suffolk Men's tennis team has not been at the top of its game this season, but the Rams are not finished yet. They still appear to be confident heading into the final games of the season with a 3-5 record.
The Rams have had some close matches throughout the season, and continue to struggle on the road with a 1-4 record. Their most recent loss, and only home loss, was a 7-1 defeat to Johnson & Wales.
"Our goal is to change the history of men's tennis here at Suffolk," said Vasilij Stroganov, junior tennis player for the Rams. "The playoffs are coming up very soon and we only have three games left of the regular season. The playoffs are just two games, a semifinal and a final. Our goal is to first win the semifinal which would be against either Johnson & Wales or Norwich. After we win that game our goal is to beat Emerson in the final for the fifth year in a row. A fifth consecutive GNAC title is our goal. If this happens we would go to play a team from New Jersey for the spot in the national NCAA Division III tournament. This would be the first time that the Suffolk University men's tennis team goes to the NCAA. That is our ultimate goal, to change the history of men's tennis at Suffolk."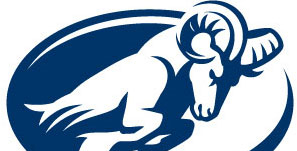 The Rams are currently in third place in the GNAC conference standings, and look like they will stay in this position going into the post season.
Ryan Chevalier, sophomore, got to see his first bit of action this week with the Rams being short on numbers.
"As a sophomore, I knew coming into this season that after losing four seniors, I would get more playing time and would need to step up my game," said Chevalier. "Freshman year, I was just starting out and we had such a great team that I was only needed for two matches. I am getting more playing time this year, but haven't had the winning results I've wanted. Overall, the feel of this season is we have struggled more this season than last, but each guy knows the work ethic and focus we need to win and go for our fifth GNAC Championship."
The Rams will go on to face Babson, April 17 at 3:30 p.m. Babson is the first of three road matches for the Rams, which also happen to be their final three games of the regular season.
"There is no doubt that the Babson game is going to be extremely tough," said Stroganov. Last year we lost 7-2 and the year before that we lost 6-3. I think we can compete with them if we stay focused during the matches and play this match like it was a usual one. I don't believe in statistics and I think that they can only show some pattern but not the whole truth. On the paper they are much better than us, but that is not necessarily true on the court and on the day. Anything can happen and we should not be afraid of them."
Leave a Comment