Restaurant Week gives Boston students expensive taste
Brian Holak   Journal Staff
It's back! Restaurant Week has arrived in Boston for another delicious two-week-spread.
For those who don't know, Restaurant Week is a semi-annual event hosted by the Greater Boston Convention & Visitors Bureau and American Express that takes place in metropolitan cities across America. The concept is simple: 200 mid-range and high end restaurants in Boston and surrounding neighborhoods offer standardized, reduced-price lunches and dinners.
What this means is that for two short weeks this March, poor college students have the chance to try different cuisines that would normally be beyond their budget. The special is open to everyone, but it is a particularly great opportunity for the hordes of struggling college students throughout Boston.
The appetizers, entrées, and desserts offered at the reduced menu price are limited, but restaurants tend to include their best and most popular selections. Want a juicy filet or New York strip from Ruth's Chris Steak House? Both of those are included in their Restaurant Week menus.
Local favorites include Grotto, No. 9 Park, Scollay Square, Mistral, Capital Grille, Max Brenner, and Golden Temple, among many others.
So, how does it work? There are three standardized pricing options. A three-course dinner at any of the participating restaurants is priced at $38.13 a person. A three-course lunch is priced at $20.13 and a lighter, two-course lunch is priced at $15.13 a person. These prices do not include beverages or tax and gratuities, but they are still very reasonably priced.
Even more enticing is the fact that the Greater Boston Convention & Visitors Bureau and American Express are donating over $5,000 to First Night Inc., a community-based outreach and arts education program, in honor of Restaurant Week.
There are no coupons needed to take part in this special. All one has to do is make a reservation and show up on one of the listed days. The waiter will then provide a regular menu and a Restaurant Week menu for you to choose from. When going for lunch, just be sure before you go that the restaurant offers a lunch menu. Some participating restaurants only offer a special dinner menu during the two weeks.
Suffolk students are already taking advantage of Restaurant Week. One of those students, Katelyn Hin, a senior and regular participant in Restaurant Week, has already made her reservations.
"I always try to go to the Melting Pot, FuGaKyu, and Ruth's Chris," says Hin. "My birthday is this week, so it'll be nice to go to all of them."
Hin also offers advice to others interested in giving Restaurant Week a try. She says that one shouldn't go anywhere without first researching which restaurants are good and which ones have the best deals. Some restaurants try to disguise Restaurant Week prices as a deal when, in reality, they are barely below regular price.
Restaurant Week began last week on March 17 and ends this Friday,  so there is still time to enjoy all that it has to offer. For more information, check out RestaurantWeekBoston.com or follow them on Twitter @RestoWeekBoston. If you can't make it this week, don't fret. Restaurant Week will be back for another round in August. Bon Appétit!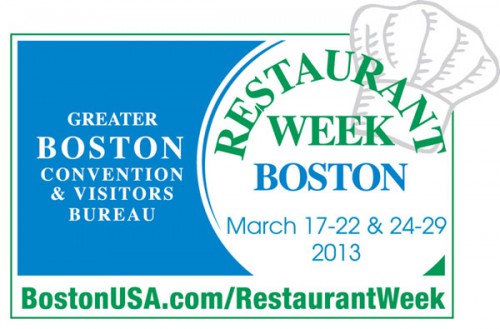 Leave a Comment